Lili – Incognito
$11.95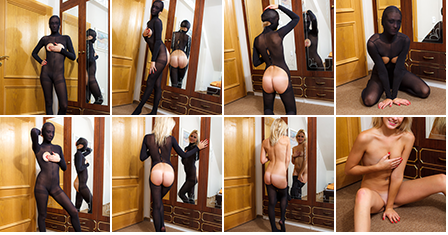 Description

Amount of photos in album: 87 pictures
Resolution: 4480 x 6720
Video Resolution: 1920×1080
Length: 9:54
Video Thumbnails:
Above.
Got something to discuss?
---
Guest
wow I am not sure if I am in the minority here but this release made me feel really quite sad, lili did not look her usual smiley or into it self.
obviously the front page grabbed my attention with how bold and different a release this is but having skipped through the video lili has a restrictive and low energy here maybe that's the point of these bdsm type outfits, I personally am not sure of such things.
onto the pictures, I, like lili seem much happier when the gimp mask comes off and we can enjoy lili's wonderful smile and beautiful hair and face and lili can breathe freely without the head stocking restricting her breathtaking aesthetic and breathing.
the last minute or so really saddened me to see lili looking like what has she just done type of vibe to it, very depressing and low mood energy.
I very well may be in the minority here so I really do hope more purchasers post there thoughts, hopefully significantly many more than on lili's usual release threads as there never seem to be anywhere near enough posts for a model of the calibre of lili, maybe this divisive? outfit/direction change into more bdsm type material may trigger more discussion?
naughty would fit the bdsm description how about slayer and masked would that fit this type of content description,
the first being stronger more serious content and the latter two being more fun and energetic.
naughty seemed to walk the knife edge of change of scene but in a titillating way and not in a depressing or sad way like this current release makes me feel
slayer and masked seems to strike the perfect balance always did love those shoot's, such a perfect mix of sexiness, temptress, mortal kombat vibe/energy
I will also just add for the sake of discussion, I would personally love for lili to show a more serious/seductive/sexual/mature side along with her usual effervescent and her energetically radiating self, but not a sad and trodded down, lili.
peace
Support
I don't quite remember the full context of this set, but if memory serves me right, it was trying to imitate a mannequin or someone emotionless. But also it was probably not a comfortable outfit to wear. I believe at the time we were tired of having lingerie in every set and wanted something weird and different. I also like "Slayer" best, it's a later set and one I think we got the look we initially wanted in this set better. "Naughty" might have been more enjoyable to you because the original audio is still in and you can hear the banter / comfort level that Lili showed during it.
Guest
I don't think Lili had the most fun shooting this video…but maybe that's just me. I was intrigued when I first saw a preview of this set last year because it was something different and from a early session we haven't seen too much of. I do really love her butt in this one though.
Support
Modeling when you don't have a face is really strange. It's a focal point that doesn't exist anymore so you're not sure where to look, and the camera has nothing to capture. I think it just shows how important a persons eyes are, it brings a certain level of humanity to a subject that is hard to capture otherwise.
Guest
yes that's true, but It's more to do with what b79 said. It's the last couple minutes of the video where the mask is already off and she isn't smiling and looks like she just wants it to be over. I think she was getting frustrated with the outfit at this point and probably also having to deal with the mirror. I do know the majority of the other sets shot this day, and all of them she is quite happy and playful so this one is an anomaly.
If the end of the video was more like the end of the photos it would have been more enjoyable to watch in my opinion. I wasn't exactly surprised by anything in this set obviously, so my reaction was quite a bit more subdued than b79's. I think it's fine as a one off unique set, and I still enjoyed that there was some creativity to this set.
Guest
Is there anything I would not want to see this lady in…. And then out of? Who knew lust could be unconditional?
Guest
Seems very artistic in a european way . Your prolific poster seems to have an good opinion here.I think a lot of fans dont realize why they are such fans but to me its the person and face then the interesting outfits. I think just a robin mask across the eyes would have been very sexy. She is a bit of a superhero really..
Guest
I see the thought behind this (bringing in fresh ideas for themes) but I don't think it works well for this sight, with this fan base. It is very niche. Personally, I find it creepy. We are here for pretty, young models so why go for the 'gimp' theme? What's next? A niqab or a burqa?
Support
I would not rule anything out.
But that would be pushing it.
Guest
Mo Sadiq try some of lili in these outfits, obviously if you have already then well done already, they straddle/stray into the territory you mention but from my point of view in the most wonderful way imaginable
https://www.teenmarvel.com/product/lili-slayer/ definitely a video game/1980's ninja movie type vibe here, love it. like the lyrics playing in the background state look just what you made me do, indeed. also I don't know if anyone here knows the name of the music track that starts at 9:11 of all times. only if you can avert your gaze from the spectacular sights lili is tempting us with, of course, maybe after a couple of views you may be able to think about the music track
https://www.teenmarvel.com/product/halloween-bundle-2018/ masked is lili's video of the bundle similar to slayer, first thing I think of mortal kombat, again sensational release. although lili remains masked during the entire video she just oozes & exudes seductivness & a great energy the whole time wonderful stuff, also love the music track that plays up until 4:16 perfect match, wish it had just looped to the cover the complete video. also kudos to the never praised enough editors, from me to you I tip my hat, thank you
https://www.teenmarvel.com/product/lili-therapy/ some wonderful erect nipple's and pushed together tit pictures in this bondage light type outfit, plus some laugh out loud lyrics playing in the background of the video up until 4:16, like the man asks can you really take dick or not? goes great with the visual really enhances lili's seductive movement in the video. in my opinion of course, let me know what you think
https://www.teenmarvel.com/product/lili-treasure/ treasure & veiled princess are sort of a combo & definitely make sure to keep a look out for the wonderful pussy peeks, not sure of the exact/correct term but veiled belly dancing type outfit & wow does lili do it well, camel toe heaven
https://www.teenmarvel.com/product/halloween-part-2-lots-of-models/ veiled princess is the name of lili's video in the bundle sheer pussy tease heaven also great music track played over the video especially the first half up until 4:29
https://www.teenmarvel.com/product/lili-bundle-2/ pestering pasties is the name of lili's video, what to say other than now this is the type of light bondage type outfit I definitely enjoy & lili most certainly knows how to tease the cum right out of me whilst wearing such an outfit, fucking hell she is so hot in this video it really is a little bit to much, not really but you know what I mean, certainly if you have seen it you will know what I mean & if not, you lucky son's of a bitches, what a extra special treat lies ahead for you pestering pastie virgins. just try & imagine/visualise a regular pov porno type deal but featuring lili instead, get your head around that. one of lili's all time great release's no doubt.
https://www.teenmarvel.com/product/lili-blazing/ then onto tight fitting vinyl/latex type outfits the two that immediately spring to my mind are this and another absolute favourite of mine https://www.teenmarvel.com/product/lili-enchanting/ enchanting has some of lili's all time best under tit shots ever, wow I love that angle is the very least I can say. like I said above in relation to the incognito release, bdsm themes outside of the teenmarvel world have never caught my attention but as I far as I can tell from what little of it i have seen, vinyl/latex seem to feature very heavily in the bdsm scene so I present these two to add to this playlist
https://www.teenmarvel.com/product/lili-dream-girl/ https://www.teenmarvel.com/product/lili-captivated/ https://www.teenmarvel.com/product/lili-mesh-peek/ https://www.teenmarvel.com/product/lili-black-hearted/ https://www.teenmarvel.com/product/lili-prisoner-of-love-year-15-birthday/ https://www.teenmarvel.com/product/lili-valentines/ https://www.teenmarvel.com/product/lili-red-ribbons/ https://www.teenmarvel.com/product/lili-royalty/ the eight links above cover chokers/whips/mask/eye covering's in the case of valentines passion release and chains this delectable selection touches on those themes I will not bore everyone by going into to much detail, just to say take royalty for example now this is the way to enjoy lili & chains together, do you agree?
happy wanking
Support
Great dedication, list and detail.
Guest
On a lighter note, looked quickly at the preview and thought, "Lili, did you read the manual before using that sunbed?" 🙂
Guest
Whatever makes Lili happy, I like her mixing it up even if this is weird