Sofi & Charlotta – Double
$14.95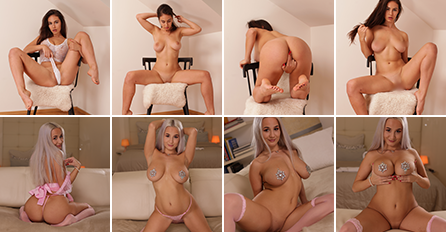 Description

Amount of photos in album: 303 pictures
Resolution: 4480×6720
Video Resolution: 1920×1080
Length: 18:45
Video Thumbnails:
Above.
Got something to discuss?
---
Guest
Right off the bat in that preview, Charlotta's ass does tricks!!
She has the best shooting locales. The background was sleek and not distracting. Everything was focused on Charlotta and her beautiful body! Always love her outfits/lingerie, including the stockings in this vid, although I wish they'd come off halfway through. Then again, it's nice to change it up once in a while. But I do love bare feet, soles, toes, etc. Her hair even seemed to look pink in some instances I guess from lighting and the reflection from her lingerie, or just my eyes playing tricks on me.
I almost lost it immediately as we get to see Charlotta's amazing breasts unencumbered! We get to see them in all their glory, not squished or hidden. They are out in the open, bouncy and full of life. She starts shaking that ass, and those stockings and everything else going on…
And, once again, I can't stress this enough, thank you both for using the original audio! I'd love to hear Charlotta speak on cam in the future. Hopefully she learns English, but even her native tongue, it's just nice to hear her voice, even if it's accidental during cuts.
She was so pretty, I legit was focusing on her face and totally was glancing over the show! Those eyes and that grin and smile. Oh, she's flexible, too! Would love to see more of that in the future on a couch again or bed. That was a nice, long couch. Her her and makeup are always on point. Loved the red nails, although pink would have been more apropos, but I ain't complaining.
I almost lost it early when the girls came out. Hopefully in the future we get to see her breasts in all their glory uncovered. It's weird how, especially in the U.S., the nipple is so taboo.
We get a lot of nice "slips".
Next time she has to throw her panties at the camera! That would be so hot.
Charlotta fans, old and new, get this set!! Her best one yet. Once she got on the top of the back of the couch sans panties and was shifting with slips I lost it. Made it to 6:33 and I'm pretty proud of myself.
❤️ you, Charlotta!
Guest
Guest
OMG two very gorgeous ladies in one bundle! Umm.. yes please!! OXOXOX
Guest
Guest
Great set. Sofi is absolutely stunning. Love every content from her!!!!
Guest
and I take this other one