Charlotta – Red Mesh
$14.95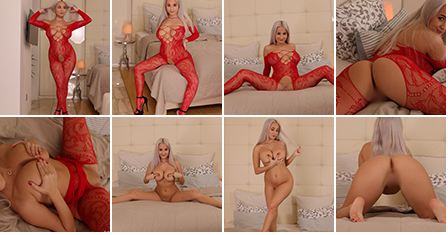 Description

Amount of photos in album: 139 pictures
Resolution: 2880 x 4320
Video Resolution: 1920×1080
Length: 8:42
Video Thumbnails:
Above.
Got something to discuss?
---
Guest
Guest
Been waiting to see this from my new favorite girl here. I really hope she's not wearing a pussy pastie under the censor.
Support
Oh, the disappointment. 😆
Guest
That's the way I like them. Bouncing boobies are a great compensation for the missing….
Guest
Disappointment, Charlotta? Never!
I could legit just watch a video of her staring right into the camera and I would be satiated.
I was on the verge of losing it so many times from the onset of the vid!! Charlotta looks amazing in this vid!! From the hair, the lingerie, mani and pedi all in red and the black felt fabric heels which looked so hot. I know I'm being picky, but if she had red heels… Prob my ocd. The 2″05 mark I almost had a heart attack! And my arm was working furiously. I didn't even notice at first. And still, you can basically see and use your imagination. Still almost passed out.
I am 3 min in and we get beautiful views of her starfish as she twerks and bounces on the bed and we hear her voice!! She is so cute and you can tell she is really enjoying herself.
3 min in and my arm is dead. Hadda take a break and write this.
Guys, get this vid!! You will not be "disappointed", like Charlotta ever could disappoint.
I would love a vid one day where all Charlotta does is just like step on a cake with frosting and squish it between her toes and stuff and licks some frosting off them!
I made it to 5:25. Not too bad. I think it was the starfish that did it and her pointing her toes at the camera which actually made the camera blurry at that very moment, and I'm not even mad.
Time to recoup.
Guest
One, didn't buy it yet and now I'm not going to.
Two, maybe don't censor something to make it look like it's more explicit than it is. You guys do this too damn mich and it's distasteful. Oh, and definitely don't make such a mocking response to your paying customers. Bad form.
Another note. Pussy pasties just fucking suck. There's no chance of slips and you take away anything we can leave to the imagination because I know that it's just a skin colored bandaid there. And pricing this at $15 makes us expect to see more. Especially when the last release of hers was full of slips. So many slips you'd think it was an oil set.
So, explain to me why I should want this release over any others from her? And no, I'm not gonna go crazy over a twerking starfish.
Support
It's your money, it's your right to do as you wish with it.
We already show too much with our previews, and our entire business is to tease. There are only so many ways to tease with previews, we are aware that some of our censors won't make any friends. Also, lighten up a little, my previous response wasn't meant to be in a mocking tone.
We love pasties down there. If they weren't popular, we wouldn't be doing them. It's better than a hand covering, but yes unfortunately slips happen less. The models like the freedom it gives, their hands are free to do other things. Plus, it's still a great form of teasing, which is our specialty. Charlotta is not going full nude yet, she's going to be a very good tease model. It's about creativity in teasing, not how much a model shows.
And you are right, there are other sets to go and buy. I think her actions in this video justify the price, more so than just an accidental slip.
Guest
Just be upfront. That's all I ask. If you don't want to show more with image previews, than write a description. You'll have less dissatisfied customers that way if they know exactly what to expect. No surprises.
Guest
I don't know how we will all go on.
The only thing "distasteful" are your comments.
TM wasn't "mocking" anyone. I saw it as playful joking and they were nothing but honest in their answers.
Talk about "bad form".
TM, while I give you credit for letting anyone have a platform, maybe it would be wise to have ONLY people who bought the set contribute to the conversation. It's an insult to the models, the photographers, you, and the supporters on here. Toxic people who just want to rant shouldn't get a platform to derail the whole thread.
Support
I had to edit your comment a little, but I'll approve this.
Guest
OMG wowowowowowow. what a goddess. A must buy. Will be getting this asap (damn thursday lol)
Keep up the great sets girl. You are sooo damn gorgeous!!!
Guest
HOLY CRAP, I WANT SOME OF THAT NICE BIG BUTT
Guest
I got 9 sets off MC Monday and come here frequently just to check for Charlotta mainly, and…oh, man. She does NOT disappoint! And this was released on my b'day, even though I saw it after 12 AM. Still during my 24 hour "birth" period.
I legit ❤️ Charlotta!
The red lingerie and onesie, the heels, the matching pedi!! Red and red. I believe we get to see her beautiful starfish again!
By coincidence or from a request, she did a set right after she got her hair done! Which looks amazing, by the way! But, if I'm gonna be honest, I actually do like your hair with the darker showing in the middle. It's a nice contrast.
Let us know when Charlotta's birthday is, because I'd definitely love to tribute her then!
Guest
Does this feature the obnoxious tape? Asking for a friend 😉
Support
I believe you know the answer already. 🙂
Guest
For her 8th set, I believe Charlotta is progressing very nicely and is very brave and confident in terms of her sets.
If you're a fan of hers, trust me, you won't be disappointed.
I also love the fact she/they listen to suggestions, because I think everything I asked for actually happened in this vid!
I didn't even get past the 5 min mark and almost lost my shit at the 2 min mark, so, I'm definitely pleased.
Guest
This set is unbelievable. Even though I have tributes for this set but still my brain plays tricks on me. I do hate pasties but man oh man the pasties work perfectly with her. The Queen of pasties. That ASS!!! . What coming next is even hotter 😉 . Oh man, I do miss doing tributes for Charlotta it has been a very long time.