Charlotta – Milk
$11.95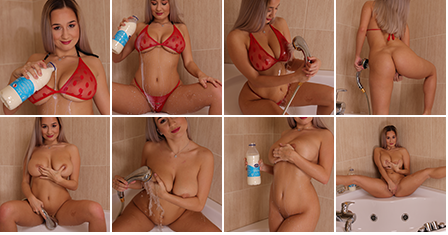 Description

Amount of photos in album: 153 pictures
Resolution: 5464×8192
Video Resolution: 1920×1080
Length: 8:41
Video Thumbnails:
Above.
Got something to discuss?
---
Guest
Wow! This is one sexy lady with an amazing body.
Guest
oooookkay… this confirms it. She needs to be model of the year. her own site, whatever it takes!! OXOXOXOXOX
man oh man, she has it all
Support
Guest
TM, I am not sure if you guys consider me a big fan of hers or not and I am not sure there is a way to tell 😛 😛 😛 😛 but I agree with steve55 500% 😉
Guest
WOW!! This set even better than I ever imagined. Her body is to die for. Wooooooooooooooolfff!!!
Guest
Milk's done that body good.
Guest
When we can expect charlotte x kayley, or charlotte x phoebe?
Guest
I was gonna say, please don't have Charlotta with anyone! Then I was seeing who on TM she would go good with and first one I thought…Kayley. I was saying I know the name Phoebe, but why isn't she coming up on here?! MC!
I wasn't gonna bring it up, but with duo model sets, maybe it was just this set, but the latest Anisa team up was such a huge disappointment. A 3 min vid when her vids are usually much longer and then for her part they just cut to the chase. No tease, no set up. It was a really bad showing. I'm hoping this was a new videographer and hopefully last time they film. Also it was horribly cut up, jumping from forward to back in the video. Seemed like a really rushed, cut up job. I never said I was disappointed in a vid, but that one I can honestly say I was. What makes matters worse, Anisa is one of my top 3 faves and she rarely has a vid or even a set out these days, and that's what we got. Let me be clear, through no fault of her own. I loved her, the person who filmed that was horrendous and I'm assuming they cut it as well.
I say keep Charlotta alone. She doesn't need a team up and I don't think it would actually help her or the other model. I feel like she'd overshadow any model she's in a set with. I know people are crazy about Phoebe on MC, saw her first few sets and I don't really get the hype. Maybe she's gotten better over time, but the first few definitely didn't catch my attention.
Now, maybe Charlotta and Anisa would be something! If it was one of many releases in a row, not one every few months like Anisa got or had.
Guest
Charlotta is sexy AF. She checks all the boxes. Love her.
Guest
TM, this is the last update for her this month, right?
Guest
yeah, its sad to think we won't get a Charlotta set on Monday. and just when there was a reason to love Mondays too
Guest
yeah, it sucks this month ended so fast 🙁
Support
You have plenty of material while you wait. 😉
Guest
🙂 😉
However, nothing beats the full sets 😀
Guest
Dammit!! I forgot Monday is technically March.
TM, are you sure there isn't another Charlotta Monday?? I wouldn't be mad at you if there was.
Thankfully I didn't watch this set yet. I may have to hold off on it then and wait until the time is right.
Guest
TM, why you leave the poor boy hanging. Don't you see he has the blue balls 😆 . New month new model.
@John release it, she's waiting for you 😆