Charlotta – Juicy
$11.95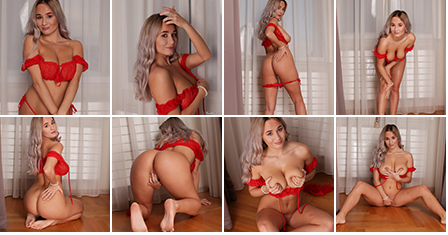 Description

Amount of photos in album: 135 pictures
Resolution: 3744×5616
Video Resolution: 1920×1080
Length: 8:42
Video Thumbnails:
Above.
Got something to discuss?
---
Support
Hi guys, we are bringing model of the month back Charlotta. We might introduce different ideas for different months, so we may replace model of the month for something else in some cases, we will see.
I hope you enjoy Charlotta. In fact, I will be trying to get her to comment here. If you have questions for her or any praise to give her, post them here now!
Edit: Charlotta has left a comment below.
Guest
"We might introduce different ideas for different months, so we may replace model of the month for something else in some cases, we will see."
TM, you can do whatever ideas you want. I only care about one think. Petra to participate in one of the months.
Guest
Glad to see Model of the Month back. And i love the intro video. Katrina's month was supremely awesome. Too soon for another Katrina month?
Guest
Guest
OMG yes. and she's the model of the month? even better. hope to see a sexy see thru teddy set for valentines day OXOX
Guest
I'll give you such a question to think about, 😉 Why do you think the boss made Charlotta a "girl of the month"? 😉
Guest
Guest
Charlotta is beautiful. Congrats on being named Model of the Month.
Guest
Welcum Charlotta to the Marvel World. Where all the boy's dreams cums true 😉 . I hope you gonna enjoy it here as we do. As I have seen and enjoyed the photographer's works, you're definitely in good hands 🙂 . Thanks in advance for all the cum and enjoy you going to give us 😉 and please do not be shy to cum with us 😛
Charlotta, you are beautiful and you have an amazing body. Especially your boobs and your ass. I like how comfortable you are with your body. Keep Up the Good Work. 🙂
I have few questions 🙂
What do you like the most about your body?
What is the original color of your hair?
What is your bra size?
When you model, Do you become a different person?
Do you always want to be a model?
Is this the first time you did a photoshoot not only in the adult industry but in general?
if No how old were you and how was it?
How is it shooting for TM?
Did you know about TM before you joined them?
Have you ever went all the way with a girl?
Do you use a toy and what's your favorite?
Thanks, Photographer for this gem. Is it possible to see her in a Micro Biniki? I wanted to see if they can handle her big juicy boobs 😉 . And any possibility for a twerking video 🙂 . As this ass needs to see it jump up and down 😉
Thanks
Support
I will pass this along.
Hint about your last sentence, if you want to see her twerking, tribute. 😉
Guest
TM, I believe I find your next Bundle Idea. The Bundle of Twerking 😉
Guest
Hi, thank you very much 🙂 I'm glad you like me.
And answers to questions:
I like my feminine curves the most, and I'm also very happy with my low height, I'm very tiny. 🙂
My original color of hair is brown.
My bra size is C-D 🙂
I think I'm naturally seductive, and I feel good taking pictures. I especially love nice lingerie and sexy clothes, I feel great and sexy in them.
I enjoyed photography for many years, I'm glad I got the opportunity to take pictures for teenmarvel. 🙂
I used to take photos more amateurish, photography like teenmarvel is new to me.
Guest
Thank you so much for answering and commenting. You're amazing and i hope you get the support that you deserve. ❤❤❤❤❤❤
Please try to visit the comment section more often. 🙂 We love to read what you have to say . Thanks and again Welcome to TM.
Guest
Do you like stockings? With gather belt or not? Maybe favorite color?
How it happens that you had decided to pose nude?
What is one of your sex fantasies?
Guest
Charlotte is scorching hot!!!
She is my model of the YEAR, nevermind the month!
I want to see her in stockings & more tight jeans. I love to see girls strip from everyday clothing. I'm not a big fan of Cosplay, I like to keep it real and twirking should be left for rap videos. I don't think it's classy at all but that's just my opinion.
I have a couple of questions for Charlotta.
I really love small girls… how tall are you?
If you could visit anywhere in the world, which country would you like to visit and why?
Guest
That lingerie, your body, the oil!!
(I would always like to know what clothes you, (the models) wear, what brand, what size, color (if it's not easy to tell or there are numerous similar colors), what brand oil was used, etc. Basically a checklist of supplies/props in the vid.)
You seems very confident in your skin and I can't wait for future sets where you're not mindful of keeping covered. Smushing those amazing breasts are just criminal! Those babies need to fly and be free!
Everything about you is amazing! The face, smile, hair color (platinum blonde), those breasts, areolas, naked nails, that toned stomach, those muscular thighs and those sexy toes!! And that ASS!! How did I almost forget that?!
I was saving up my essence for a meeting with a chick, which fell through as it's her time of the month. Then this was out, so between this and flipping through another vid, it took me 3 sittings to get through this. Finally watched the last 40 seconds or so today.
Rewatching a second time to review.
Thanks to both for using the original audio in the vid, as I always request as I feel it's so much more real/natural. I will say though, that was a horrible, repetitive song. "Are we there yet, are we there yet…" Oh that was grating.
Her calves! I definitely like the fact she was bare on the legs and feet, although I do love some good stockings/pantyhose and classic pointy heels.
Would love a Charlotta bubble bath, shower, foot play, footjob with a dildo!, food play with her feet, "Russian relief" with a dildo. Oh man. So many things for her. So glad she has the whole month. I know I'm being greedy, but would love her to be the monthly model in May as well, (my birth month) and also summer weather.
Short of her own site, this is amazing!
Maybe in the future, custom vids, so when she's enjoying herself I can hear her moan my name.
When we get a full view of her from behind spraying on oil, that is what heaven looks like!
Also love the constant eye contact/looking for the camera.
Charlotta is hands down my fave model across the interwebz.
Would love to purchase the clothes she wears in her vids. That would be awesome if that was possible in the future.
@7:14, I died and went to heaven! Beautiful. Love the leg gap as well.
Can't wait for the next one!
Guest
Dear Charlotta,
Oh, I miss you so much, my love ❤️. We had a lot of fun together in February. It was a month full of love and joy and it's gone so fast. I wish I could go back in time. You are the best thing that happened to me in 2021. Thank you for being part of TM World. I wish I could hear your voice one more time. Goodbye, my love ❤️ and my soulmate. I hope to see you again soon.