Charlotta – Guest
$9.95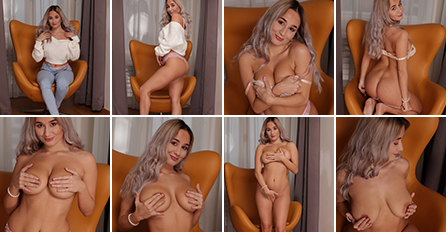 Description

Amount of photos in album: 138 pictures
Resolution: 3744×5616
Video Resolution: 1920×1080
Length: 8:28
Video Thumbnails:
Above.
Got something to discuss?
---
Support
Every now and then we will have new guest models. Our photographer wanted to share her with us, so he will be reading your comments. Keep the comments centered on Charlotta only and let us know what you like about her. 🙂
Guest
GOD-DAMN! Is all I could think of when I saw her! I hope she goes from guest to regular! Thank you Mr./Ms. Photographer for sharing! (And at a discount.) From her banner, the first thing, she's obviously drop dead gorgeous. Her face, eyes, her outfit. Love the sweater and those jeans that fit her curves like a glove, her feet! Prob won't be in this set, but would love more time with her feet in the future! Love the faux gray hairstyle. I know it's hard to maintain! She looks like an all natural, gifted beauty. I play anime games where girls look like her and I think those proportions are unrealistic. Charlotta has proven me wrong! Amazing body. Love her curves and that derriere. Mamma!
Those are my first impressions and why this was definitely an instabuy, especially since the photographer was kind enough to share her with us.
Support
Thanks. Now that you mention it, she does have anime proportions… maybe we could do some cosplays or have her in anime outfits.
Guest
Ok, boss. I order some cosplay costume, just for sure. 😉
Guest
I agree with everything you said. I hope she becomes a regular. she will be an insta-buy for sure. wow smoking. so gorgeous!!
Guest
Yes, I hope that you will like her, like I do. I don't know, but she has really something sexy inside. And by true – I have no idea, what color has her eyes, even that I spend with her flew hours. 😉
Support
We really do have different styles. 🙂 When I do scouting, it's for models like Phoebe and Alena. But then you find models like Sabinka and Charlotta. I think there is room for both styles of models!
Guest
Now that would be an AMAZING duo/double. Wow, I am sweating
Guest
She have beautiful hair color and style, gorgeous tits and fine piece of ass. Nice lingerie!
What happen if people will not like her? Where we will find her and her beauty?
Guest
Just seen Charlotta and had to buy straight away! She has a beautiful face and a fantastic body! She looks like she knows what to do in front of a camera as she aroused my attention instantly!
I love the jeans too. It's good to see models wearing different things and normal clothes too (& seeing them taking them off).
Also, I love the location. Hotel rooms had to the naughtiness of the theme.
Congratulations to the photographer for capturing this girls beauty & sex appeal.
PLEASE TM, can we see more of this girl??!!
A fantastic set!!
Guest
Yes, I completely agree. I have to say that the fact that she is fresh 18 years old and has no experience with glamour photography, so she was really amazing.
Guest
Amazing beauty! I loved her belly and big ass. I love chubby girls (I don't know if it's pejorative to say that). But as Newton used to say, "The larger the mass, the greater the attraction." Newton was far beyond his time.
Guest
While I love Charlotta's stomach as well, I didn't want to mention it for this very reason. She has an AMAZING body and is fit as fuck! Funnily enough, the character in game is a spitting image of her body type. She's as fit as can be for her body type. There's no "belly" there. I get your sentiment, but then you say "chubby" and "larger", both of which she is not. Kinda sounds like you're trying to "neg".
Charlotta I ❤️ you and your body already! Please don't change a thing!
Support
Correct. She has curves, but her body is clearly toned. Like an amazon woman. 😉
It is rare to see her body type as a model.
Guest
I'm Brazilian, but I live in Korea. Unfortunately, very thin women are the majority in this country. So what I said is definitely not a dishonest compliment (I thought chubby would be a loving way as it is here, but curvy is the right way). I am sorry! Even so I see her with a large and very beautiful body and a sensual belly that may even be a normal body for you, but it is very rare here. Anyway, like many of you, I really enjoyed charlotta and I'm really looking forward to the upcoming sets. She's perfect and will certainly be my favorite model along with Rayne.
Hey I also liked the idea about cosplayers.
Thanks!
Guest
Mark Knopfler's most thrilling video. Charlotta can be a new star in the marvel universe. I'm veeeery impressed.
Guest
She definitely checked off all my boxes. I hope Charlotta becomes a regular on TM. Perfect from head to toe.
Guest
We need a whole lotta Charlotta
Guest
Holy guacamole!
I finished watching the vid last night and…so many things to say!
I definitely love her outfit in this. Those jeans! Is there a way to list the brands and sizes of the clothing the models wear? Even if it was behind a paywall? I definitely love her feet in this vid.
Not to tell the cameraperson how to do their job, but maybe less zooming in and out? I know they know what they're doing and they're giving us the best looks, but it's sometimes jarring and also the model is moving a little too fast I felt like in the beginning.
I want those panties! For real! Man, I would love to buy those. The way she shimmies off the jeans to show off those beauties and that beautiful derriere and does that dance! I could just imagine wrapping those panties around myself!
@1:26 when she put her leg up and we could see her foot, I almost lost it, but from the start of the vid to the end, no joke I was rock hard that I was furiously "working" it and couldn't find release. That's a hallmark of a great vid! I had to relax, come back, watch some other vids then watch her vid again and I was done the minute she was taking the jeans off again in the start of the vid, well then I skipped to the end as I watched it before and wanted more feet and bare buttocks shots. And those soles!! I wish she stayed at @1:34 with both legs up and feet showing for more than a second. Maybe future vids. This is a prime pose for her.
Song wasn't bad. Better than most and didn't distract me. But as always, I'd love to hear the model speak or even just hear her natural noises, breathing, etc. with background music playing. I know this can be difficult to do, but she doesn't seem like she needs direction and is a natural in front of the camera. I would love a bio on her, or even better, a bio video! Measurements being taken, etc.!
@5:09, loved seeing her soles and from behind and then the chair swiveling on her was cute. Those panties seemed to go perfectly with her skin tone and hair for some reason.
I would love to see her past work. It would be a travesty if she has none!
Charlotta seems like she would benefit from a site entirely her own. Can't wait for her next vid! I will say, her hands covering from behind distorted the shape of her beautiful, ample, breasts, which I lovingly call hush puppies. In the future maybe tape or pasties, and when she's comfortable enough, maybe we can forgo the covering altogether! Oh! Would definitely love to see her starfish.
I legit finished watching her clip last night, passed out for 12 hours right after and hadda wake up, rewatch, handle business and write my recap the following day.
Support
Great feedback. I hope she makes you bust more climaxes in the future.
She has no past work, we instructed her lots in the video so that's why there is no audio and only music. We've done a few sets already, some of what you want, but she will stay a tease for now. You are free to give ideas for future sets, we'll try to make them happen.
Guest
when may we order the next?
Its hot in here.
Guest
For real. I legit had a dream about this chick last night and woke up hard!
I know the models are probably spaced apart? Or is it if they want to release content they can? If it's a schedule type thing, please TM and Charlotta and the photographer and whoever else is involved, please legitimately think about giving this model her own website! I would be opposed to a subscription fee monthly membership to her for 1 vid a week! Whatever price point is fair to you all and makes it worth your while.
I legit can't wait a month or even weeks for her next sets!
I've been subbing to OF, buying Clips4sale clips, etc. and nothing comes close to Charlotta!
Support
Please consider sending her Tributes then. I'll make sure they're pretty good for you.
https://www.teenmarvel.com/product/tribute/
The release for models set varies. The main factor is popularity, but other things as well such as how active they are, contract, etc.
Guest
Guest
I feel like a kid bored in the back seat of the car………"are we there yet"?????
Charlotta infatuation, wish I had cash for a tribute.
Idea, I cant be the only one that uses visa MC gift cards, got a bunch with 5 bucks, 9 bucks. Wish we could buy "credits" or TM/MC dollars with the little values and combine the TM/MC credits to make purchases.
Support
I'd like there to be a credit system somehow. But we would want to keep things private, with little to no information stored here. That's why, we don't have any accounts here. We'll definitely do it if we can do it the way we want.
Guest
Hi, I am customer of this website and have purchased lot of videos , so want to know do you have nude set of this beautiful model charlotta
Support
She is a tease model. Have patience and maybe it will happen.