Charlotta & Nicky – 2 For 1
$11.95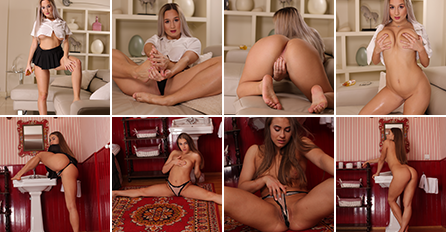 Description

Amount of photos in album: 236 pictures
Resolution: 3744 x 5616
Video Resolution: 1920×1080
Length: 18:02
Video Thumbnails:
Above.
Got something to discuss?
---
Guest
I tried to rewind Charlotta's GIF, but it didn't work. Oops!
Guest
FUUUUUUCK, Charlotta is beyond perfection. deadly gorgeous curves. damn. OXOXOXOXO she's just so sexy and perfect. insta-must-buy. still think she needs her own site, once a month just isn't enough
Guest
This the best 2 in 1 ever created in the history of the website. TM you have put me in a tough spot. MMMM which models will have the honor to be my first of the day. Is it Charlotta my newest addiction or Nicky after a long long time. TM help, please
Guest
Nicky Preview Looks so hot, wow!!! Need my tax return asap
Guest
Nicky set OOOOOOMMMMMMMMGGGGG!!!! this is definitely the best of hers yet. The view and the poses in this set are magnificent. She is one hell of a model. We need more and more more of her and we need her to be the next MOTM, TM PLEASEEEEEE. Photographer another amazing job, however, 07:45 why photographer why, it was sooooooooooooooooooooooo, clooooooooose!!!!!! .
I predict that most of the fans come here because of Charlotta and I do not blame you. I am one of her biggest fans if not the biggest 😉 🙂 . I am definitely addicted to her. Anway you guys need to give Nicky a change she is amazing. This one her hottest set yet. I believe she is underrated and she deserves more support and attention than this. I hate to see a beautiful girl like Nicky and an amazing model go to waste. Thanks and enjoy 🙂
Guest
Finally able to watch Charlotta set. This girl is above and beyond amazing. WHAT a set. The oil, the rubbing, the views, and the slips OOOMMMMGGGG!!!. I love how she opens one of her buttons then she continues rubbing herself with the oil, giving the opportunity for her big amazing juicy boobs to slip out. The kitty split OH MY!!!!. I did not know she wears glasses, are those prescription glasses? Thanks, TM for fulling my hunger, however, I am still hungry and I want more, please.
I want to vote for Charlotta, to be the model of the year.
Guest
This is not a duo, so slightly offtopic: I wonder if the Caroline & Lilith duo will arrive in time for the finale of duos month
Guest
While I gotta be honest and say the main reason I come to TM these days is for Charlotta solely, this twofer was ingenious. It gave Nicky the rub. I was obviously going to get this for Charlotta, but that Nicky pic on the banner was amazing. Her smile, her eyes smiling and that body and split!!
I figured since I don't know when we'll get another Charlotta set, I'd start things off with a tease with the new (to me) model.
Again, thank you for using the natural audio!! SO MUCH BETTER!
I knew I was in trouble with the first peak of those amazing missile shaped tittays as I call them! My favorite shape of tittay. And those nipples and areolas! That squat from behind. Muah! I just saw a woman like her this week, who looked like Topanga and she did things to me. This vid just reminded me of that day! When she pulled down the panties at 0:34 in! And we saw the cotton liner, I dunno, that was just so hot. Such a good tease she is.
Amazing gymnast type body, love her chin dimple. Those soles and feet from behind, along with her derriere and her looking over her shoulder with those come hither eyes. She definitely knows what she's doing and how to work the camera. I'm adding her to my must get model sets. I just wish there was a way to buy the clothing they wore in the vids! I'd definitely want those panties! Or even that blouse! Her hair is so straight. I bet she smells real good. I loved how she was so into performing, she set the boobs free. And that flossing her kitty was amazing! She has beautiful dimples as well and her split is memorizing.
Liked her toe nail polish as well. I got 5 min in and I was still rock hard with no end in sight and I was furiously "working" it. I had to call it. This is one of those vids where I would legit have a heart attack or pull my member off had I continued (which is a good thing).
I will watch the rest later and Charlotta's vid another day.
Definitely an amazing set and for that price?!!
I just wish next time we see Nicky get in that tub and take an already drawn bath!! (No running water, though. Terrible for the audio.)
Guest
One pet peeve, if you're filming, and while I appreciate the original audio, all phones on SILENT!
Guest
Charlotta fans will not be disappointed!
I only lasted about 2.5 minutes with all those under the shirt flashes and I'm not the least bit disappointed that's all I lasted.
She legit needs an OnlyFans or something catered just for her though.
Guest
I JUST finished getting through the entirety of this vid as Charlotta has a new vid out and it's time to move on to the next one. Always love her outfits. Really dug the hipster glasses. Wish she kept 'em on the whole vid. She definitely is amazing with oil.
(I love her hair and the roots showing, but could she film a vid the same day she gets her hair done, so we can see the hair in unison?)
I legit think Charlotta's body is perfection!
@5:33, oh man, she had me picturing a pov fj! Was this someone's intention? And if not, can we see this again in the future?! Maybe even with a banana or dildo or something phallic shaped. I'd always be willing to volunteer as well. I think that's where I lost it the other time. It's hard to keep track with how many times and where with Charlotta vids. I know there was another vid we got a great view of Charlotta's starfish, another video with that and the fj would be amazing!!
Support
I made sure to have a focus on the feet a little more, thanks to some feedback. 😉