Diana & Nicky Sequel – 2 For 1
$11.95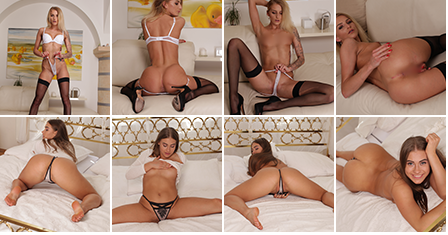 Description

Amount of photos in album: 175pictures
Resolution: 3744 x 5616
Video Resolution: 1920×1080
Length: 16:41
Video Thumbnails:
Above.
Got something to discuss?
---
Guest
OH Yes!! . I was waiting for those two Models update. Gonna buy it during Madrid Match Half Time 🙂
Guest
girls look amazing. I can't wait for the next event! I hope teenmarvel are planning to show us progress from our favorite models . i wont name names (cough cough cutie) . I hope we all have a good ending to this 2020 year and may nipples and pussy run free lol:)
Guest
Diana is an insta-buy for me. Love those toned legs and ass.
Guest
Usually, I should have watched Diana first. However, after watching Nicky's introduction set I had to watch Nicky first. What an amazingly beautiful, sexy, and hot girl. To top all that she's a gymnastics. I do not blame the photographer for hitting Nicky's ass with his camera. I am still hypnotized by looking at her ass how about the photographer who is inching closer to it. She is definitely on my must buy list. TM, from all the new models you have announced this year she is my #1 top of the list. Sorry for saying this, you guys are crazy for just thinking of dropping her off. More, More, and More Nicky update, please. Thanks
Guest
😀 yes. I was hoping, that boss will cut this off. Well, what can I say. – I was probably really hypnotized by her ass, that I wasn't paying attention. 😉
Guest
Why cut off the best part of the video 😛 . Oh yeah!!. I did send an email to TM. However, I would like to do this in person. Thank you and to all the photographers for continuing to do the photoshoot even during the pandemic. You had made things better and enjoyable for us even during these hard times. A year to forget however a year to remember in TM/MC. Plus your commenting made the website even better. So Thank you sooooo much please continue doing what you do best and Merry Christmas and Happy New Year ❤❤❤❤
Guest
Guest
Diana is my other fave! shes just so sexy and gorgeous. cant wait for her and Carolines sets. OXOOXX
Diana is a instabuy always!!
Guest
Nicky is hella cute! Is she a gymnast? Diana…. you should "rent" her out to Metart. 😉 Personally I am not interested in the artificially forced tease when a model is clearly old enough and willing to show…
Support
I am aware that everyone hates it. 😉
You'll be okay with a little tease before the full reveal.
Guest
"Is she a gymnast?" Yes, the photographer confirms it on her first set. Regarding Diana, I believe she is willing to do full nude from day one however there is nothing wrong with having little fun with that 🙂 . Plus the website above does mention extreme tease 😉 . I respect your opinion and I do for sure wanna see her one day fully nude, but I love what TM did with Diana. It makes me wanna see more updates from her. 🙂 . As the big reveal might be closer than ever. For me personally, I really joined the show and what TM did there is a Masterpiece.
Guest
Yes, Nicky is real gymnast. 🙂 And about Diana. Don't be afraid 😉 just this teasing, is sometimes more sexy, then fully reveal.
Guest
Who own this bed? So many models poses for one photographer?
Guest
I also acquire this one, I hope it does not delay