Diana – Virgin Oil Sequel
$11.95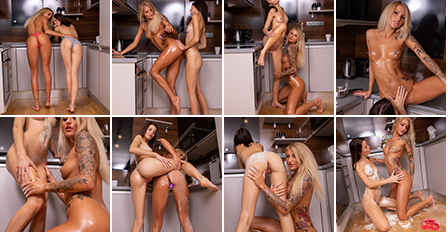 Description

Amount of photos in album: 116 pictures
Resolution: 4480 x 6720
Video Resolution: 1920×1080
Length: 12:28
Video Thumbnails:
Above.
Got something to discuss?
---
Support
So much cruelty, Diana has turned to the dark side.
Enjoy my pets. 😆
Guest
Is this THAT friend you so cruelly teased getting a "taste" of our evil queen?
Guest
Are the good parts pixelated/censored or finally shown in all.their glory?
Support
Guest
Guest
Ever since Diana's "Wet" set, you've raised the expectations and I do know, you have got much more in the pipeline. So I bought all of the further sets in joyful anticipation, waiting for "the next step", which never came. In this set I have the feeling Diana is only a sidekick of her companion. A technical hint yet: Extra-virgin olive oil plus rye flour could be better for the skin of the girls.
Guest
I would like Kayley's videos to last 12 minutes
Guest
This is hot, Diana always is. I would like to know when we will be getting her unleashed stuff or the short scenes from her other videos that are censored, fully released and uncensored?
Support
We will release some soon!
Guest
I am hoping soon is sometime this month…I especially want that one from "cruel" with her getting licked and kissed by that other girl…If you decide on one…please be that first and I will be shelling out the cash on release.
Guest
Wow! This is a fantastic update. i LOVE it! If this is her dark side, more please!
Guest
man oh man, a set with Caroline and Diana (when they're both ready) naked, caressing and licking eachother, enjoying eachother would be magnificent
OXOXOXOXOXOX