Diana – Perfectly
$11.95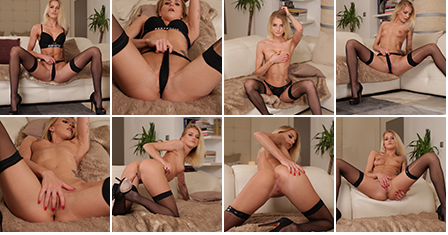 Description

Amount of photos in album: 94 pictures
Resolution: 4480 x 6720
Video Resolution: 1920×1080
Length: 7:51
Video Thumbnails:
Above.
Got something to discuss?
---
Support
One at a with the Diana reveals. We made it normal price to reduce the cruelty you guys will send us. 🙂
Guest
OMG Diana is my second fave to Caroline. I can't wait for their duo vid. I love those sexy tats OXOXOXO
and she finally reveals her gorgeousness!! My oh my. perfection
Guest
this looks good, by the way teenmarvel, on the main page it says that the next level is 5, when in reality it should be 4
Support
Guest
So this is another japanese censored set!?
Support
Guest
I truly do enjoy the art of tease. Especially the "extreme tease" that TM models do so well. I'm OK with the occasional emoji covering a girls naughtier bits, at the end of a set/video, giving a hint of what I will (hopefully) eventually be allowed to see. I'm OK with previews of what's to come, even if it may be years before the content is finally released. I'm OK with purchasing a set that I will one day find out was released in an incomplete form, when it's eventually re-released as an "extended cut" sometime later (I REALLY enjoy the extended sets, and I understand how/why this can happen, and you usually provide them as a bonus or at a discount, which is greatly appreciated). I'm OK with a model cupping her hand over her vagina and exposing her beautiful asshole. I actually quite enjoy that. A LOT. I can both blame and thank TM (and to a lesser extent, Japanese porn) for that 🙂
That said, the last couple of Diana sets, including this one, I have to say I haven't enjoyed as much as I would like to. It's the mosaic censoring that bothers me. It really distracts from the experience, and though, if I knew I would never see the beauty hidden behind that unsightly blemish, I'd continue to purchase Diana's sets. I'm not pushing for her or any other model to show more. Having the sense that she's just not ready to go that far, or she's naturally progressing at her own pace, to the edge of fully nude, without actually ever getting there, would continue to be a wonderful (and cruel) adventure. But knowing she has willfully given herself, all of herself, to her fans, and the resulting content was vandalized (for lack of a better word), it doesn't have the same effect. The blatant censoring just doesn't provide the same excitement, and the mosaic blur really makes me not care to view the set or video again. Just feels like a waste of money, and like I bought something that was intentionally broken before I bought it. Likewise, interspersing coming attractions in the middle of her videos was kind of a distraction I didn't personally care for, but it was tolerable and I didn't feel the need to say anything. Similar teases at the end of videos is preferred and much less distracting.
Don't get me wrong, there are some really great views of Diana's other features in this. And I get wanting to hold back a little. Keep us wanting more. I'd really be ok with paying for a set with objects naturally obscuring her honey pot. Panties at half mast. Hell, even a carefully positioned vase. But the censorship just really turns me off. If there is a story behind it that I'm not aware of, like she decided after the fact that she isn't ready to share that side of herself with the world, then so be it. But it seems like she was ready to take the next step and has been limited retroactively purely for the cruelty factor. It's fun and funny, but there is a fine line between cruelly teasing and frustrating us, and intentionally causing aggravation. I'll pay for the tease, aggravation I can get for free.
It's your business, you know what your fans want. Continue how you see fit. I'll continue to support you and the models. Just wanted to share my opinion. Others may disagree, and maybe others choose not to speak up. I'd far rather see a hand intentionally teasing me than an unsightly blur marring an otherwise beautiful photo. It's somehow worse thinking of this as an "event set." I do greatly appreciate that the recent Petra content has not had the same kind of edits.
Thanks for reading this. It's just my opinion, and I've said it before. Maddie has a great one. Diana does too. And Petra. Freya. Rain. I could go on. Thanks for an otherwise amazing event, so far. You haven't shaken my faith in you, I just wasn't expecting what I received when I purchased this. But it's not what I'm not seeing that upset me, it's what I actually do see that I found disturbing. Hope you understand.
Support
This is great feedback! I think we share the same philosophy in terms of tease. Some don't like how excessive we make things sometimes, which will cause frustration and not the good kind. Some will gladly come along for the ride, because eventually the reward will come, but if it drags for too long then some may want to get off the ride. We like to experiment with all forms of tease before we get to the good stuff. I am sure you know by now the lengths we go to do so are often excessive like having tape and a bunch of other crazy things. So I totally understand if some of the measures we do are not to ones liking.
Thanks. 🙂
Guest
I will forgive this if the first uncensored Diana thing is the one from "Cruel" Where she is getting licked by another girl…
Guest
You seem to have been able to put my thoughts into words probably better than I myself could have done.
Fully agree with what you said.
Guest
TM is the best. Diana is just perfection! OXOXO
Caroline, Diana, Katrina, Raine… my fave girls!!
Guest
Holy sh*t! This is beyond cruel. Just enough peeks/hints at the promised land to truly torture me 🙁
Guest
I enjoy teasing in which clever camera angles, creative positioning or other camera magic is used to hide the goods. That's a good tease.
The problem with these mosaic & emoji censored sets, to me, is that it seems deceptive. The previews lead you to believe that you will get to see more than you actually do, because you can't see the mosaics in such small preview shots & even sets that show it all are typically censored in this way in the previews. It creates confusion & frustration.
Making this set regular price & including some sort of indication that you will not get to see it all, like you've done here, is a step in the right direction but the blatant censorship still kind of breaks the immersion.
Guest
Guest
Thanks, TM now it is much better ;).