Sofi & Mia – Better Together
$14.95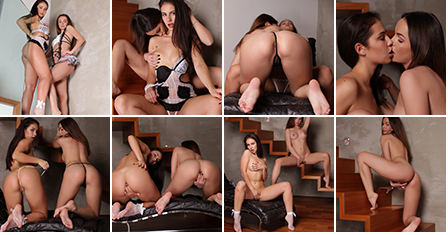 Description

Amount of photos in album: 96 pictures
Resolution: 4480×6720
Video Resolution: 1920×1080
Length: 10:13
Video Thumbnails:
Above.
Got something to discuss?
---
Guest
Fucking hell, she's back! Both my favorites from "that other place" back together! Mia is still as hot as the last time i saw her and this one is simply THE hottest shoot both Sofi and her ever did.Hope this is just the beginning for this duo.
Guest
This is truly a dreamy duo! PLUS I guessed it right! 😀 Need to get a new credit card asap!
Guest
I am biased because Sofi is my favorite model, but there is no doubt that this is a hot set. The best I have ever seen Mia, too. I have never seen her this revealing.
Guest
Welcome Mia to TM. Hope to see more of you Duo and Solo 🙂 .
Guest
LORD HAVE MERCY YOU GUYS ARE GODS, YOU GUYS HAVE ANSWERED MY BEGGING MIA IS ON TM!!!!! CANT WAIT TO SEE MORE OF HER ! SO DAM SEXY!
Guest
JESUS those previews! MUST HAVE
Guest
I do know the most of the GG scenes are fake – not this one. Seldom have I seen such a good harmony between 2 girls. I hope to see much more of them – solo or as duo.
Guest
sofi let your pussy free i can't take the tease:)
Guest
yea same here. tired of being teased every time.
Guest
While this set is worth every dollar in my opinion, I don't think you're going to see any Sofi "unleashed" sets soon given the statements she's made on her Patreon page (oops, am I allowed to mention that here?). But with enough support, it might happen!!
Guest
Stephen, Can you elaborate more on these "statements" as I am not a patron of her.
Guest
In my mind Sofi tells TM who she wants to work with and TM does what TM does best and here we have it.
Something tells me I'm that far of from reality.
But more importantly, Sofi and Mia together, WOW, I did not expect that what a incredibly hot set and video! Sofi and Mia are like fireworks together, mmmm!
Support
To your first point: sometimes it's like that, sometimes it's not.
Guest
Well that puts me at 0-for-1 on the guessing game. Can't say I'm disappointed though cause that means more Sofi!!
Guest
I tried to buy this earlier and watched for 5 minutes waiting for the page to load. Figured better to come back later and give the Marvel servers a chance to cool down. Definitely worth the wait,great set TM.
Guest
Sofi is the most talented model on the site! Some girls have this, some have that. Sofi has it ALL! Beautiful, sexy and a natural in front of the camera. Her personality alone is worth the price of admission. Definitely solo-site talent.
Guest
Great to see Sofi back in actions
Guest
wow oh wow, nice!! love Sofi, Mia returns!! great news
Guest
This was a nice surprise, but it would be nice to see both girls at the same level. It felt like Mia was unsure of taking the lead much of the time.
Guest
It was her first shoting together with another girl in live. 🙂 But she enjoy this. 🙂
Guest
My wallet is waiting patiently for mia to come back with a nice solo set. A bunch of solo sets at that. I hope there on the way! So glad to see her on the site. Seeing her solo and having the camera only focus on her would be amazing!