Kayley – Lovely Assets
$16.95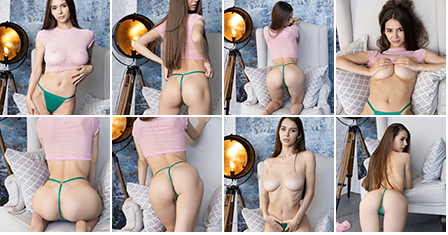 Description

Amount of photos in album: 141 pictures
Resolution: 4480 x 6720
Video Resolution: 3840×2160
Length: 9:04
Video Thumbnails:
Above.
Got something to discuss?
---
Guest
Guest
I thought the same thing! <3
Guest
Guest
Buy it! If you miss this one you are a God Damn fool! This was whole?…hole? whole new territory for her! Very original and unique video. I applaud all involved with this. I'm not even sure this was her most revealing set ever…. but it was the hottest ever to me! And damn, I've never seen her look better. Just God Honest Beautiful. Hair and makeup was just perfect and we got that $10000000 smile! And Jesus she is so confident now. I can not believe how far she has come in honestly such a short time. No lie, this was a completely different experience for me… I mean damn, she had me shifting gears like I was driving an 18 wheeler! And she does this "side saddle" pose (you will know it when you see it) … Jesus, I hope we will get a lot more of that! Would love to know how you guys rated this one compared to the others?
Guest
Imagine if a plug would enter the hole, but still partially covered by the panties, would be next level tease
And then get company from Alissa
Guest
I posted my response below before reading yours, but you nailed it. Just an entire new level of sexual confidence in this release. I have been a fan for [ahem] years and this release just blew me away and made me so excited for what might be in the future.
Guest
Guest
Alissa should wear this panties, and show us the butt hole
Guest
OMG Kayley arrives on my birthday! Order in, can't wait to open my gifts…
Guest
Guest
Kayley is on fire in this release. Some comments here focus on certain things, and sure? but that's not why I love this set. Focusing on what part of her anatomy we get glimpses of ignores the fact that she is ON FIRE in this video. She exudes sexuality in this video. It's like she discovered a switch she's never seen before and decided to press the ON button and then, whoa…. We are watching one of the world's most beautiful women realize just how sexy she can be. She has fun with it! Like a lot of fans of hers here, I've paid top-dollar for the "sheer" sets that reveal glimpses and peeks of "parts" that she tends to keeps hidden, but this set is better than all of those because of the gleam in her eyes, the curve of her smile, the come-hither looks, and just the way she moves for the camera. It she seems she is now not only comfortable with but *enjoys* knowing the pleasure she brings her fans, and it brings her pleasure and confidence as well. I can't wait to see what she will do moving forward!
Support
This set was also part of a livestream she did. Fans who attended saw this video done in real time. This may have helped her performance a little, knowing her fans were watching. 😉
Guest
I will try to set my alarm for the next time she does a livestream at 3am in my timezone 🙂
Guest
I think she's shown this new level of sexuality in other recent videos on her MF page, too. My guess it is has to do with the fact that she's no longer the somewhat self-conscious teenager with the amazing body. She's a young woman now and moves with a lot of mature confidence that is really sexy. I hope it's also because she's feeling a bit better now too. Also looks like she gained a little bit of weight which I am glad to see. Now, let her put this level of sexy modeling into some of the more revealing outfits she has been rocking recently and the results are bound to be mind blowing.
Guest
not to be crass,but Kayley has had me "exploding" for a long time 😀
Too bad your webshop wont let me buy anything :/