Alissa & Kayley – Double Trouble
$14.95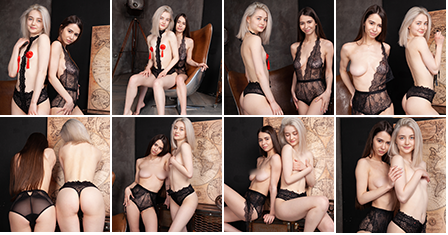 Description

Amount of photos in album: 126 pictures
Resolution: 3744 x 5616
Video Resolution: 1920×1080
Length: 8:01
Video Thumbnails:
Above.
Got something to discuss?
---
Support
An update for Alissa fans, she says she will be back to her natural hair color for our next shooting. However, we still have plenty of sets with this style, so do not be confused if you see a mixture of both in the future. 🙂
Guest
In the comments section for Alissa's last set, MC Admin said you have some of her old unreleased sets with the long dark hair and that you might release them in the future,
will you release those? Cause that would be amazing, maybe even as a holiday bundle!
Instabuy for me for sure!!
Support
Yes, we'll do our best to do that.
Guest
That's fantastic news, Alissa's sets were so sexy last year even though they weren't as revealing as they used to be. I'm just as excited though about the forthcoming shoots you do with her this year. Hopefully her photographer will take on some of the suggestions made in the comments section for Alissa's last MC set regarding poses that fans like, a little more boldness and more varied settings and scenarios.
Guest
Whatever Alissa wants to do with her hair is fine by me. I personally prefer her natural hair but there's no doubt she looks fabulous here with Kayley. The contrast between their hair colors is super charming and they've looked amazing together in their duo sessions all this year. It's only Alissa's prominent tattoo that I think significantly subtracts from her incredible natural beauty and hotness. But I realize tattoos, unlike hair colors, can't simply be changed back and if Alissa still really likes it for personal reasons and it's now part of her identity, then I can totally accept that and we should all stop complaining.
Guest
While it's always great to see more Kayley, I have to admit I'm disappointed that most of her sets now feature Alissa. Don't get me wrong, Alissa is pretty enough and I'm sure she has her fans, but I'd be so much happier if we could just see Kayley on her own. Kayley is my favourite model on the site. I don't want her to share her photoshoots with someone else.
Guest
Amazing Grace!
More, More, and More! No matter the hair color or the weight….
I want to thank both of these Gorgeous Ladies – Alissa & Kayley (in no particular order) for continuing to share their Beauty with us. May they Continue Forever! I am happy with whatever they are comfortable with and hope that they become braver and more comfortable with "Less"! In their case, "Less (clothes) is More".
And, as Always, thank you TM and the photographer for making these happen. More! Loner sets. Longer videos. More of Everything. Oink, oink. You have already made this impossible pairing happen, so it shows that you are All Powerful and have Magical Powers! Sheer Everything on Both Goddesses? A little Bondage play (ala Becca and Val)? And Mount Vesuvius will be embarrassed by the super volcanoes going off simultaneously around the World! We believe and put our trust in You (wishing that we could put our Thrust in Kayley & Alissa).
Any and All sets of Either Beauties is Always Welcome and Much Appreciated.
Guest
It's been a couple of days since my order, and usually I get links right away. I'm hoping they come soon, thanks! 🙂
Support
E-mail was spelled wrong. Fixed now.
Guest