Kayley – Voluptuous
$14.95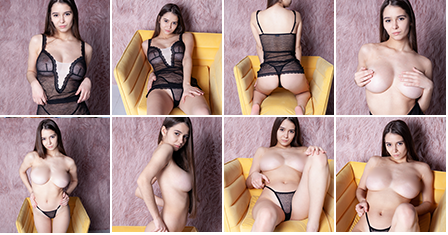 Description

Amount of photos in album: 107 pictures
Resolution: 3744 x 5616
Video Resolution: 1920×1080
Length: 7:44
Video Thumbnails:
Above.
Got something to discuss?
---
Guest
Goddddd she looks amazing…..,..just amazing & soooooo "HOT"
Guest
She really does look outstanding in this hot set. She wasn't quite as "massive" as in the later exceptional Marvelous shoot, but certainly voluptuously enough to turn me on. Hope she returns to this form at least (if not the mind-blowing Marvelous size).
Guest
Kayley is a stunningly beautiful woman, the size of her chest has nothing to do with it. Be thankful she is sharing herself with all of us, I know I am. Thank you Kayley!! Love to you smile, it is Gorgeous!!!!!
Guest
I'm not referring to the size of her chest. I just prefer her a bit heavier than the way she was when she shot with Alissa. And I don't think I'm the only one who does.
Support
There's plenty more of thick Kayley.
Guest
Happy, happy! A good day just became a great one! Such a beautiful young lady and such a great set! (pictures guys, pictures…)
Guest
I can't quite wrap my hands around exactly why, but I was extremely happy at the end with this release 😉
Guest
Kayley in a shear thong? Couldn't get my CC out fast enough. By the way TM are you competing with MC to see who posts the hottest sets?
Guest
Guest
Kayley is Amazing to me Regardless of her "size". To me, it is her Perfect coke bottle figure, most of all.
The one thing she is stingy with – her Gorgeous Smile – is the Only thing that I wish that she'd show us more of. (OK, I'd also Love to see – and pet – her little kitty).
I just want to Thank Kayley, the photographer and Marvel for sharing such a Beauty with us and making our lives brighter.
As Always: More, More, More – Daily, hourly,… .