Kayley & Alissa – Besties
$19.95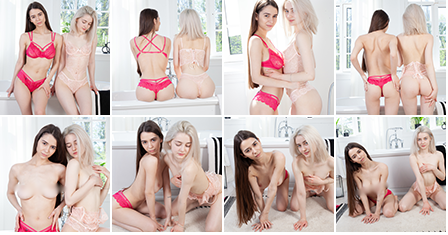 Description

Amount of photos in album: 116 pictures
Resolution: 3744 x 5616
Video Resolution: 1920×1080
Length: 8:08
Video Thumbnails:
Above.
Got something to discuss?
---
Guest
I love how Alissa looks at her breasts
Guest
My favorite moment here is when I see the previous Kayley leave the front page, I know then that a new one is due any moment. These two are amazing together, it is a joy to watch them working together, I can't wait to see what comes next from these two beautiful young ladies.
Guest
Oh, I have so many comments))
1 – Best set ever with these two together
2 – Kayley looks amazing in pink, but I'm reminded of the expression "looks good in a bad hat". She makes anything look great!!
3 – I think Kayley is helping Alissa to feel more comfortable topless. Maybe the next level will be coming soon?
4 – Alissa showed a few glimpses of a genuine smile! Heart-stopping gorgeous! The photographer should tell more jokes or maybe play some standup comedy during the shoot))))
Overall a fantastic duo and can't wait for more!
Guest
Always wondered why many (not all) Eastern European girls are kinda awkward when naked around other females compared to western counterparts?.
Guest
This may be as close as we will ever get to watching two Heavenly Bodies circling each other this close due to gravitational attraction. We can only Dream of what their Actual Merger might look or feel like, but we can be sure that it would set off all of the detectors….
Guest
Guest
Awesome set, love Alissa's outfit! Can't wait to see her comfortability progress even more, as she really seems to like Kayley.. And Kayley seems to be a good influence 🙂
Guest
Alissa has rediscovered the art of tease with Kayley and seems to grow more beautiful with each new set with her, especially when given lovely things to wear as she has here. It would be fabulous if Alissa could bring the same level of tease to her solo sets. But at the moment it seems she still needs Kayley to bring out the best in her.
Guest
I like both ladies but I really don't share the enthusiasm as everyone else. I wish Alissa would show more. The hand bra at this point is too distracting for me. I think I prefer Kayley on her own.
Guest
I agree. I buy anything with Kayley in it, but I would have preferred a solo set. Still, that top that Alissa is wearing in this set gave some pretty nice glimpses of what we are missing. If she would quit the hand bra (which is boring and a bit ridiculous when Kayley is completely topless), they would be amazing together. I hope that happens, the sooner the better. Maybe their next shoot together?
Guest
Nothing against Alissa, but I sure wish Kayley's new friend could have been Alice. Your servers probably couldn't handle that though.
Guest
two fine examples of cuties of opposite size tits