Mia – Play Time
$11.95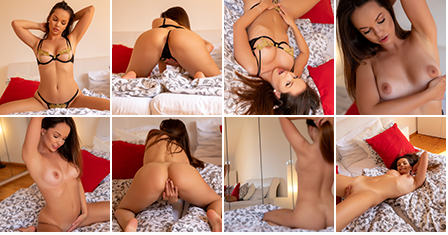 Description

Amount of photos in album: 112 pictures
Resolution: 4480×6720
Video Resolution: 1920×1080
Length: 9:37
Video Thumbnails:
Above.
Got something to discuss?
---
Guest
Either that's not simulated or she's one hell of an actress!
Guest
a very fine debut! Thank you for recording the sounds of Mia during the video. That added to the heat.
Guest
Wow! I loved seeing Mia on here in her earlier group sets, but this is a surprising development for her first solo release! Now I just hope she can convince her friends Sofi and Daniela to go the same route 🙂
Guest
Amazing so You add solo Mia to collection. Thanks 🙂
Guest
A very convincing performance by Mia. The crowd cries for moar, moar, moar.
Guest
very nice, gotta wonder if she's a pro – if so I'd love her hourly rate
Guest
OMG yes solo Mia !!! Thank You Guys !! Please keep these solo Mia sets coming she is absolutely stunning !!!!
Guest
+1 from me for every word of Nick!!!
Support
Let's just say she had a good time.
Guest
Let's just say I had a good time, too 😉
Guest
Now that's how you do a debut solo on TM!
Guest
I'm probably going to ruffle a few feathers but I find Mia to be hotter than Sofi. Great set TM.
Guest
Love her more natural frame and softer features, too, and definitely now that she's making this quality content.
Guest
Jesus. Thats a hell of a way to start my morning.
Guest
This young lady might just have the most beautiful face on the planet. When her face is in the picture, I find it hard to look at anything else… wait… let me rephrase that… I find it DIFFICULT to look at anything else… after all, I don't want to be crass.
Guest
Guest
Cant wait to see her future content ! Lovely set just wish it showed some . Would love to see her in the same outfit from the "Freya-Black mesh" set with the same poses . Hope she gets more revealing and wears see through with some nice leg spreads my wallet and my eyes cant wait for more of this goddess ! Cant thank you guys more for giving us some solo Mia!