Kayley – Valentine
$14.95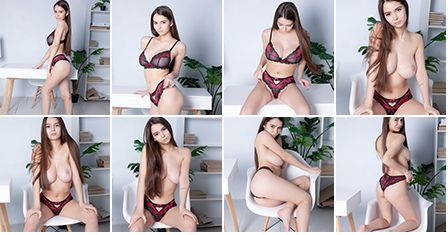 Description

Amount of photos in album: 94 pictures
Resolution: 4480 x 6720
Video Resolution: 1920×1080
Length: 6:35
Video Thumbnails:
Above.
Got something to discuss?
---
Support
Happy Valentine's Day. 🙂
Some of you may have noticed that Kayley's Twitter is gone. I won't get into the details, but I'll just say that she is doing fine and we made the decision together. It is much better for her safety if we keep things more contained on the internet. In the future, we may try to create a general Twitter account for the website instead. But no plans for that yet. Anyways, Kayley loves her job and loves your support!
Guest
Was worried that it was gone. And I love supporting her as well!
Guest
Just appreciate Kayley and the other girls for bringing a little joy into our lives! Buy or don't buy their sets but for heaven's sake people, respect their privacy!!!
Guest
I appreciate you letting us know! Great news that she still enjoys making content and a wise choice if her privacy was at stake.
Guest
I just went looking for her Twitter thinking I had not seen an update lately. Oh well, I fully understand the situation. Always in our hearts and minds, Kayley.
Guest
She was really the only reason I set up a twitter account. I understand though and wish her the best.
Guest
My Valentine's day is complete, no box of chocolates can compete with someone as sweet as Kayley!
Guest
Happy Valentine!!I love her!!!
Guest
i assumed as much some people just don't know how to act anyway happy valentines day to all the girls at tm!!!
Guest
She's so perfectly beautiful that it hurts.
Guest
Perfect. I was so hoping a set of Kayley would come out soon.
Guest
She looks amazing but can we put some ponytails on this girl?!? Actually, that would be a sexy shoot. Love her long hair but…. yeah. Thanks for the lovely set.
Guest
Agreed. Nothing like a pretty girl with a ponytail, and Kayley sure as heck fits the part of the pretty girl. She just made Valentine's Day a bit more special. Thanks.
Guest
Ponytail would be great but I totally meant pigtails. Or two braids and it starts off with some daisy dukes. Aw man… that would be hot.
Guest
Again, I couldn't agree more. I've got a thing for both daisy dukes and pigtails (or ponytails) and to see this beauty sporting both might be more than my heart could take. But at least I'd die happy.
Guest
I understand that many have never seen a pair of boobs, maybe even TM staff (lol), but Kailey is very boring. 2 times in a month or even 3 since February is not over. There are other models who deserve 2 sets in a month. this is my opinion of course.
Guest
Bro… Kayley is one of the best here. Honestly, I'm sick of seeing Lili all the damn time. Talk about boring.
Guest
Personally, I prefer see Kayley than anyone else who's already shown a lot. Why? Because discovering little by little seems more exciting
Guest
Boring? She's hot as hell! I'd quite happily have double or triple the amount of photosets of her as we get and I'd buy every one. There are plenty of models on here I don't like or find even vaguely attractive, but Kayley isn't one of them. Less Naomi, less Madison but more Kayley!
Support
Everybody has different tastes. And everybody wants more of every model. A good problem to have.
Guest
Very few models generate the volume of discussions more than Kayley.
Guest
HUH ? Naomi doesn't have a lot of sets tho once a month maybe, Or once every 2 months. She is def not one of the most shown models. Kaylee has had like 5 in between Naomi sets. I would say Petra, Lili. Kaylee are the most shown models on here. THAT IS NOT A BAD THING EITHER but to say there is too much Naomi is crazy and the farthest from the truth. Her last 2 sets Kaylee has at least 5 sets in between and some on MC as well. She is by far the most used model the past 3 months. Again not a bad thing , BUT LESS NAOMI IS A BAD THING !!!!!!!!
First 4 pages of the store Kaylee 10 or 11 sets NAOMI sets 5 maybe 6. Madison 3 or 4 sets.
I don't see how you think there is too much of them when there is clearly more of Kaylee then any other model of the last few months, again not a bad thing but if anything we NEED MORE NAOMI & MORE MADISON.
HELL We need more RAINE, The other SOFIE, Cutie & PLEASE BRING PHOEBE OVER FROM MC. THAT WOULD BE AWESOME 🙂
Guest
Best Valentines ever… thank you Kayley
Guest
I agree with Roberto and Marceacos, I am also fed up with Lili, Naomi and Company, but Kayley has a lot to show yet, just like Sofi, Mia, Bety, for example, hopefully consider it, thank you.
Guest
I'd never say I was fed up of Lili – some of the others definitely, but not her – but I don't find myself very excited about her these days. When she first started appearing on the site all those years ago, it was great. When she started posing topless, that was even better. I waited with a great deal of excitement to see what she'd do next and, years later, I'm still waiting. Nowadays, I'm resigned to the fact that what she's doing now is all she's going to do, and on one level that's fine – she's hardly unattractive, after all – but part of what attracts me to models is the anticipation of what they'll do next. When all they're going to do next is the same thing they've been doing for years, it tends to get a bit boring.
Right now, I look forward to each new Kayley photoset with a great deal of anticipation because I'm excited about what she'll do next. Full nudity? Some tit licking? Maybe some masturbation? Maybe nothing of the sort, but the anticipation keeps me looking forward all the same.
Guest
Simply stunning! My new favorite. I like these studio shots that allow a larger light modifier and longer focal length.
Guest
I won't buy this (I think), but Kayley may be the model on the site with the highest ceiling. Very pretty with an almost supernatural body, she just needs to be a bit more relaxed in her modelling.
Guest
Social Media has really turned into a cesspool of insane people.. It is the sole reason some models are gone forever, and even a few agency's. White Knights and Anti's love it when the "fans" destroy their own.
Guest
Possibly the most beautiful gal i've ever seen!
Guest
I'm not too interested in Kayley. but I don't mind seeing her updates or what she does next. For me liking just one model more than any other the wait time between updated it's so long. The model of the month made the wait better by giving multiple updates of the same model.
Guest
Pretty simple in my world: See Kayley, buy Kayley. If she had her own site I'd be buying every one no matter how often they came out…
Guest
I suggested this a while ago! Kayley has so many updates across 2 sites, she could easily have her own website. I think he other models fall short. Maybe team her up with Ira, mixed solo and duos. And please bring back beautiful Julie.
sweet-marvels.com
Guest
A excellent set from a truly beautiful model!! Keep on pushing them bounderies and I'll keep on buying! Maybe a set with a friend/model..? Maybe a little kissing?
Guest
Another great Vid/Set… she has come a long way from her early days… my one complaint is that they blurred the last 10 seconds of the vid to fade out… every second counts when viewing Kayley
Guest
Is she ever going to show her pussy?