Caroline & Daniela – Study
$14.95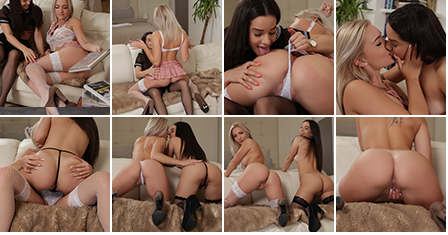 Description

Amount of photos in album: 96 pictures
Resolution: 4480 x 6720
Video Resolution: 1920×1080
Length: 9:51
Video Thumbnails:
Above.
Got something to discuss?
---
Guest
This is definitely the best duo set. TM is this the end of duo month or one more left?
Guest
Let's hope for one more I'm sure we've all got our dream duo we'd like to see!!!
Guest
I get the feeling that after the camera's off, these two keep going… we need an invitation to the after party!
Guest
next week's vid will be the after party, ok, wishful thinking
Guest
They are reall friend's and they didn't seen each other a while, so they was happy from this meeting (photo shoting;-))
Guest
Unbelievably engaged in "After Studies". WYSIWYG, their most daring set so far. Please, TM tell the photographer to deliver more of this kind.
Support
With a little guidance, we managed to push things a little more.
I'm sure the photographer will be here to comment soon.
Guest
Yes, I really like it. I am here to fulfill your wishes. 🙂 I read all comments and what is possible, so I try to make in other photoshoots.;-)
Guest
Do they keep their shoes on the whole time? Please tell me no.
Guest
In this set yes, but I can promise you, that we did some sets – especially for foot lover's. 😉
Guest
Guest
Guest
Guest
hi girls i really like danielas new hip tattoo hope you get a few tattoos and when you sucked carolines tongue so hot thankyou
Guest
OMG! Easily the best duo set, and they are soo beautiful. If they make anyting hotter than this I think the head will explode but I´m willing to take the risk 😉 Maybe a spectacular end of the month update, please?
Guest
TM have you heard about a new chocolate called M&N. They say it's the best chocolate in town.it's has a mix flavor of two continent. Have you tried it and any idea when it's going to be released to the public? 😉
Guest
i hate to burst your bubble but i got a feeling we might be waiting a while for that one unfortunately
Guest
I'm ashamed to say it took me a couple minutes to figure out where you were going with this lol. We all want this sweet chocolate for Halloween! My imagination can only hold me for so long