Caroline & Daniela – Chemistry
$14.95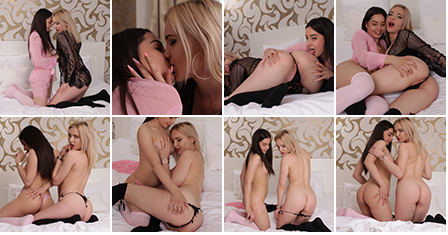 Description

Amount of photos in album: 107 pictures
Resolution: 4480 x 6720
Video Resolution: 1920×1080
Length: 8:49
Video Thumbnails:
Above.
Got something to discuss?
---
Support
This month will be a little different. The weekly updates will feature girls together, so it will not only be these two in the weekly updates. You might see them again in a few weeks, though. 🙂
Guest
wait wait hold on a sec so M and N will be part this event
Guest
Guest
So anyone who bought the madi bundle should be pretty excited right now!
Support
I wouldn't keep your hopes up. We have other plans for that.
Keep discussions on Caroline and Daniela.
Guest
Oh darn I guess we have to wait and be really nice for Santa? Baby new year? Easter bunny? Okay I'll stop.
I absolutely love Caroline and Daniela together and solo. Chemistry is the best way to describe them
Guest
I love Daniela plus girl on girl all month! Somebody pinch me I must be dreaming 😉
Guest
A duo month, now that's a very nice surprise!
Caroline and Daniela kick it off really well in yet another very hot update from them.
At first I thought it would be a month of Caroline and Daniela together, which would have been awesome!
But there have been other duo's on TM which would be equally awesome and I would love to see this month as well,
Or who knows, two models which we haven't seen together yet, at all, I can think of some….oh this month is going to be good!
Anyway, to the important part, Caroline and Daniela in such a aptly named update, they do have so much chemistry which makes their updates so much better. Smoking hot video! Very well shot and excellent production value which makes it even better. Though the pictures do seem to be a bit of an "obligatory" addition but the video more than makes up for that.
Support
Definitely thought about just having it be Caroline + Daniela, but we shot a few other girls together and thought it might make things a bit more interesting.
Guest
Guest
I'm impressed. Seldom have I seen such pretty little nipple suckers. Thank you TM.
Guest
These 2 REALLY like each other! Love this duo!
Guest
OMG YES!! best month ever. Thank you TM and Caroline
Guest
daniela and caroline you are both very naughty together keep up the good work
Guest
Hello, we are preparing another shoting of this two amazing girls. And I would like to ask you, if you have any set's idea's, what you want to see. 😉 I will glad to perform your wishes to reality:-)
Guest
What you are doing is very nice and hot,any suggestions that I would make might be asking too much of the models,so I'll just leave those thoughts to quite moments of blissful reverie 😉
Guest
I really like it so far. It would be nice with a massage session with lots of oil 🙂
Guest
Oh my, I second that suggestion!
Guest
I 3rd that,hot oil massage would be HOT!!!!!
Guest
I strongly 4th that!!!!!!!!!!!!!
Guest
I agree with DocMatt, my thought is very very naughty it might be too much for them to handle 😉 however, I have some clothing suggestions that would be nice if they could wear some micro bikinis, see-through clothes with no panties, mesh and slingshot. This for both TM and the photographer all Duo Sets should have sound on from the first second till the end of the video that a very important part in the video.
Support
We wants to push things to the limit…so we'll see. 😉
Guest
I have thought of a very hot a bit extreme scenario. In the first part of the video, the same things they usually do. The second part Caroline put her hand inside of Daniela panties ( see-through panties will be nice) she rubs her p****y and fingers it when she is done she removed her hand and maybe she puts her finger in Daniela month to have a taste and after this Daniela do the same thing to Caroline. In the last part of the video, both girls in their backs on the bed touching each other at the same time until the video ends. This the first part of the set and the second part I will send Privatlety to TM;) . What do you guys think? 🙂
Guest
I would love to see D and C putting their hands inside each others panties. Pulling them away a bit or off completely. The more see through the better. These 2 are really hot together.
Guest
Guest
I´m sure watching some oil wrestling would be interesting. Could even be extended to a Marvel championship 😉 Of course with that micro bikini mentioned elsewhere.