Petra – Delicious
$11.95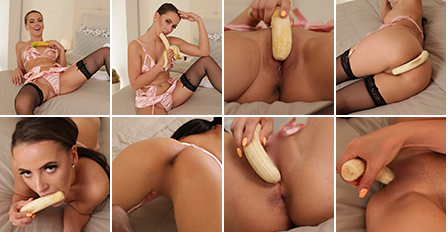 Description

Amount of photos in album: 238 pictures
Resolution: 4480 x 6720
Video Resolution: 1920×1080
Length: 10:46
Video Thumbnails:
Above.
Got something to discuss?
---
Guest
Oh my! This is such an incredibly hot update! Petra is so very amazing here, from the moment she walks into the frame until the very end she had me hooked. The ways she moves, the way she looks, those winks! Not to mention I never envied a banana quite this much 😉
Guest
She can play with banana any day!
Guest
I don't see the one 'job' I want to see the most in the previews 🙁
Still gonna buy it because DAAAAAMN
Guest
Great set. Is it a Chiquita or Del Monte? I'm asking for a girlfriend.
Guest
The Queen of Nude is back
FINALLY FINALLY FINALLY FINALLY FINALLY Thanks TM
please do not let us wait for another millennium for her next update .
238 pic!!!! the pic set alone have his own cum session 😉
I wanna eat that banana maybe it's the only way to taste Petra's P***y wet and creamy 😉
Question to the photographer, after this set was done didn't you craved to try the banana!?
Photographer you know the Petra the best how extreme and wild she is?
🙂
Guest
Of course I would lie, if I will tell, that I didn't have any wild fantasies after her performance. She is really extreme sensual woman from her nature, and becouse I know, that she is not acting, that she is really so wild, so its sometimes difficult to concentrate on work. 😉
Guest
Guest
WOOOOOOOOOW!! . This is incredible. WOOOOOW!!!. The set was soo good 238 pics and 11 min video and still not enough. They are no need to ask Petra if she like giving BJ and she is an expert in it 😉 In the first min when she starts giving the Banana the best joy of his life I melted ooooooohhhh Sh*t indeed
Is the Banana for sale?? Is possible to do the same set but instead of Banana, you use me 😉
Guest
Yes, you can buy banana's in almost every store. 😉 and sorry, it's agains rules, involve any men to shoting…. but thank you. 🙂
Guest
Yes but I don't want any bananas. I want one with Petra's saliva and her wet p***y on it ;). As for the rules I have a very good relationship with the boss, so I don't think he will mind bending the rules just for me 😛
Photographer, thank you for the amazing job you did with Petra. You have done an excellent job. Not only that you have played a big role in the success of the websites. You have a good eye for recurring new talents and the latest is Katie. 🙂
Guest
Thank you. It mean a lot for me.
Guest
Wow the only thing better is her squirting after that epic session.
Maybe a future update