Petra – Baby Oil
$11.95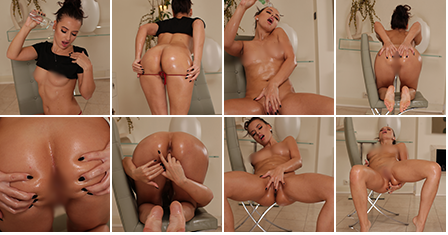 Description

Amount of photos in album: 176 pictures
Resolution: 4480 x 6720
Video Resolution: 1920×1080
Length: 11:09
Video Thumbnails:
Above.
Got something to discuss?
---
Guest
cutie do the same video as beautiful Petra pleaseee:)
Guest
Agreed, imo she's the best model on here. hopefully she is open to taking it to the next level soon
Guest
TM, you sneaky little ……………………………………………………….
Finally after a long long long wait. My queen is my back in action.
Watching Petra evolve all these years was an amazing experience that I never wanted to stop. She has completed all the stages with a perfect score. Petra is one of a kind model that nobody can replace. I am very lucky to witness this amazing journey she has given her fans. I am very thankful to Lili that she is the reason I came here and supported TM. Without her, I will never have met Petra.
TM, I need Petra on a monthly basis, please.
Thank you, TM
FYI TM, I still expect Petra update in the event 😛
Not sure If I am allowed to say this, for All Petra Fans Please do a Tribute to her. She needs your support now more than ever :).
Guest
I've been following Petra for about 9 years now. Every time I see a new set, the evening gets extra spicy. Or, in this case, greasy spicy. Still without tats, which is slowly getting unusual.
Support
Thank you. Petra and Lili will always remain pure. 🙂
She used the entire bottle of oil. 😆 The most oil I've seen on a model… very messy.
Guest
TM using 'Lili' and 'bottle of oil' in the same post…so mean to me 😆 😉
Well I couldn't help myself… Petra found a weak spot in my Lili armor, and that's saying a lot. She did quite an amazing job in this set.
Guest
OMG! Oily… Playful… Petra? Yes… Yes… and… HELL YES!!! It's been too long of a wait for new Petra, and I was trying to remain hopeful that she'd be included in the "Classic" models… I mean, I know she was never with NS, but she fits the bill… a classic model who has years of experience here or elsewhere… was starting to think she wouldn't be recognized… TM NEVER disappoints… could MotM for May still be in cards for my favorite TM? I can dream… Petra deserves MotY 🙂
Guest
Would love to rub her and to help her touching herself
Guest
Sweet mother of Lucifer!!!
Guest
Wow AMAZING ! By far the sexiest girl on this site with the sexiest content.. WOW… i wish Mia and Sabinka had content like this