Petra – Mirror Sequel
$11.95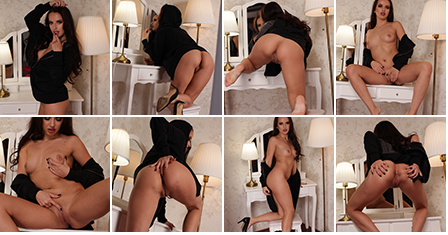 Description

Amount of photos in album: 116 pictures
Resolution: 4480 x 6720
Video Resolution: 1920×1080
Length: 9:29
Video Thumbnails:
Above.
Got something to discuss?
---
Guest
FINALLY!!! My queen is back. Ohhh!!! I miss you sooo much my queen. January was nothing without you. What can i do to get a women like Petra, no scratch that Petra herself. I will conquer the world just to have her in my life. A King needs his queen. Thanks TM, Petra and Photographer for this update.
Guest
Sure, I did it with pleasure. 😉
Guest
This set is amazing. The way Petra moves slowly makes you enjoy and focus on every part of her gorgeous body. Set by set Petra proves that she has the best Kitty in the World. I love how Petra bending over and keep moving her ass slowly. Photographer how seriously how you able to control yourself the way she moves like that how!!!!??? especially when she opened her legs plus the way she was looking into the camera. Photographer how!!?? whats is your secret. I need that power that you have. Is it my eyes playing tricks on me or Petra is wet!???
Guest
I love the makeup in this set. It worked perfectly with the theme of the set. This is a relaxing set but in a very very hot way. This might not have the extreme features but damn it is f****ing hot. This a perfect set if anyone wants to contemplate Petra's body. The slowness and pauses with every move she made from shaking her ass, opening her legs and her kitty and touching makes you enjoy everything about her body. There is no question that this set is at the top of my list. For all Petra fans out there, this set is a must buy, and to all the fans who love to observe a beautiful female body must buy it. Petra is one hell of a model. There is no doubt about it. This set is a Masterpiece. Amazing job to all. 🙂 Thanks
Guest
She's so gorgeous and the perfect level of explicit. Met-art envies you for sure 😉
Isn't it ironic that she had her own website like 4 years ago, which was dull and tame, and now she doesn't!? We need weekly Petra! An explicit TM site (multi model) with no teasing and no stupid holding back is long overdue. Half of your models drop out due to babies, you should not waste time by prolonged teasing.
Support
Nearly all of our models show more here than their previous sites. Petra, Kris, Lili, etc. Different models have different styles, but teasing is part of the TM brand. Though I don't think Petra is really teasing at this point. 🙂
Guest
Knowing she is working in kindergarden make her sets even hotter. MHS is totally right, how to control yourself while shes hot like hell, mr photographer?
Support
Very simple. He's a professional.
Guest
I have to make it for girls as much pleasant as I can. They has to feel comfortable and relaxed to make best performance. So of course I have to act professionally in every way.
Guest
I had watched this set more than 5 times, and still can't get enough of her. I am addicted her and I want MORE. This girl takes my breath away. Everytime i seen her naked, a big WOW!! pops in my head. Petra does not need Beautiful because Beautiful needs her.
She had released 7 sets and still my eyes can't believe it, she actually went all the way.