Lili – Paradise & Reflection (Double)
$14.95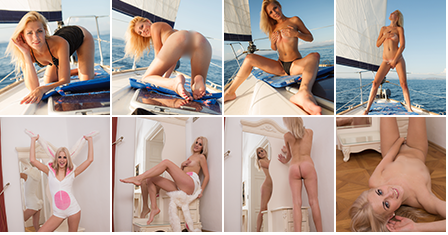 Description

Amount of photos in album: 211 pictures
Resolution: 4480 x 6720
Video Resolution: 1920×1080
Length: 20:31
Video Thumbnails:
Above.
Got something to discuss?
---
Guest
Thanks TM for doing this double set. I am glad you are making an effort to push more sets out 🙂 Lili was a very busy girl in 2014. I already spy a really nice peek in that preview

looking forward to checking out both of these sets tonight.
Guest
Love the 2014 joke. Yes, TM MC is sitting on some really old, but good, stuff. My guess is 2017 😉
Guest
It actually wasn't a joke 😛 Reflection set is 2017, but Paradise is 2014 and trust me, that's far from the only one left… I love any year her sets are from so I am very happy as long as TM keep them coming. 😉
Guest
Thank you TM ! The boat shooting day is one of my favorite day, I'm glad that we didn't have to wait the summer to see this one. ♥
The reflection set is also good. I like the bunny costume especially the hood. 🙂
Guest
Guest
I think of the marvel girls Lili has the prettiest feet
Guest
I agree with Barney! Lili got my foot fetish going…I wish our Queen would wear some open-toe strappy high-heeled sandals sometime…that would be like WOW!!!)))
Guest
I didn't have tribute rewards for either one of these, so it was a nice surprise. Her bunny mirror set is better than I expected. It's pretty hot and Lili shakes her bunny tail very well 🙂 Paradise I think speaks for itself, great pics and video of Lili in the sun with beautiful scenery. I don't think any Lili fan should pass this bundle up, but that's just my opinion.
Guest
i can,t buy this new item. Please solve it
Support
Guest
The description says there are 211 pictures in this double set, but I received only 207 (116 in Paradise and 91 in Reflection). I hope this means the description is wrong rather than I am missing a few images. TM, please confirm.
Support
The description is wrong.
Guest
Thanks for the holiday sale