Lili – Ice Queen
$11.95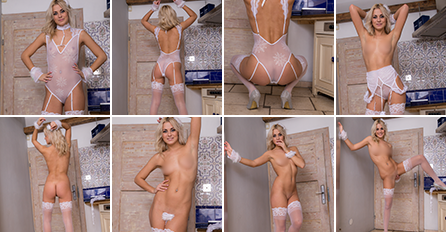 Description

Queens deserve big tributes. Tribute Lili today and get previews of future sets.
Amount of photos in album: 125 pictures
Resolution: 4480 x 6720
Video Resolution: 1920×1080
Length: 10:13
Video Thumbnails:
Above.
Got something to discuss?
---
Guest
Wow, I didn't expect to like this set so much. I'm glad that you didn't spoil everything in the tributes of this one. I love this set and video.
Guest
ah, the birthday gift has finally arrived 🙂 I have been waiting patiently for this one. White sheer + stockings!? I love this, it's one of my new favorite sets for sure. Thanks TM. My Lili addiction quenched for at least 1 more day 😉
Guest
the amount of pussy shots in this video must total all before it (maybe someone can correct me on this but i dont think so) and its totally awesome to see same goes for the amount of titage on display. awesome work from the camera operator for keeping it together and not losing the plot with what you were capturing in front of you.
its difficult when i am drunk to fully articulate why this video is so good but it definitely is and when you see it you will understand
super tight close ups as well near the end on lilis tits and nips, had me wanking and cumming no doubt
Support
We kept the preview a little obscure to keep the surprises for fans. I'm glad you had a good time. 🙂
Guest
Thanks for the response, yeah the previews are low key but the video and pictures are awesome.
Thanks everyone involved
Also love the new comment response notification option
Guest
Never have I been so motivated by a review. This is SO bought when I get home. Hope there are more of these up to this level coming down the line soon?
Guest
worthabuy, thanks for posting if you could pick the next outfit lili was to where that other models have already worn/modeled which would it be?
just to give you a heads up were my cock/head is at, check these out and let me know what you would choose from either the list below or your own list
petra milk (i know there is slim to no chance that lili would were such a outfit but its my fantasy so please let me be).
naomi white sheer.
Sofi & Mia – Love the outfit worn by sofi would certainly be very pleasurable.
Elza – Pink Mesh also worn by romana in the spring bundle 2019 obviously i apologise if any other model has been so unbelievably brave as to where such an outfit for us all to wank and pleasure ourselves over.
Naomi – Golden again probably to far for lili but the fantasy of it, oh my.
Madison – Naked Mirror for reasons.
Duos Pack – Audrey & Selene, Romana & Victoria the particular outfit as worn by victoria while she is getting eaten out by romana some of the other models whom have worn said outfit are sofi under the title rainbow mesh, naomi again rainbow mesh, apologise to any who have dared to be so bold and adorn said outfit that i have failed to mention i salute you.
Naomi – Glasses some of lili's all time hottest releases have been when she wears a mesh type outfit in my personal opinion, just have a think or a scroll through your lili archive or the website and remind yourself of the cock teases she has put out there, getting real horny as i type just thinking about them.
Caroline – Red Mesh just the slutty factor of this one is more than enough for me.
Kayley – Luscious what more need's to be said
endless other possibilities i know but just a few to mull over
happy fantasy compiling your list and to anyone else who would care to partake in such an endeavour is more than welcome to respond.
peace
Guest
the correct answer is all of them 😉
Guest
All of them and more. I also like Naomi – fishnet. I'm totally agreed with you, the best are mesh outfit but also sheer, I think.
Guest
I didn't like the set and video. For me there is no progress. What about a new Grand Prix set? At the moment I see only steps back, especially in the sets. I remember the set when Lili was a nurse. There was a picture in the set where you could see so much uncovered. Or the video with the umbrella – that was hot. Please more pleasing and less teasing!
Guest
Dennis I respect that you commented and gave your thoughts, even If I don't agree with it. There was a small peek in the Nurse set in pic #84 if that's what you mean…maybe TM left out the spread eagle pic in mine though I don't know. 😆 but, yes the Summer video you refer to is one of the best classics, no argument there.
This is a normal priced set so not sure what you are expecting here, it's not going to be Grand Prize 2, this isn't an event. I feel like if there is a Lili fan that doesn't like this set, they should probably either a) get their eyes checked or b) check out a different model. In my opinion this really is one of her best.
As far as progress… well I will say that we haven't gotten a 'true' event level set since Naked was released in Summer '19 so I see where you are coming from – I very much hope that changes for the next event. I did love getting the duo set + her 4th bundle in the last one though.
Guest
Are you an employee of TM?
Support
Guest
😆 lol no sorry…I've probably just been here too long. btw I didn't mean any offense to anyone who dislikes the set. I'm just a passionate fan of Lili. Just trying to provide some reasoning behind it.
Guest
dennis, you crazy? i guess perfect textbook example of each to there own.
definitely covid got your brain man.
as always peace
Guest
Dennis, I don't know what would you like to see from Lili, this set and video are great if you like see through. You are asking for less teasing from the goddess of teasing, you have certainly missed something.
I also want to see more each time but it's what most of us like here, tease and extreme tease and she is really good on it.
I know that you'll see what you want in some sets but you'll have to be patient.
Remember that she did a huge amount of sets and she is still active, so yes, sometimes you'll see more or less than the previous sets.
But don't say there is no progress. For example, if you compare sets by the same shooting day, you'll see that they are not at the same level or it depends of the day.
So you can't really see a progress in the time. I think it's because of this that they don't come out in chronological order.
BTW, be patient but don't expect too much either…
Guest
TM, When did you start recurring bodyguard for Lili 😆 and are you guys still recruiting ? 😆 . Guys you need to respect each other opinion, everybody has their own opinion. As long he respectful to Lili, and to TM is fine by me. If I cannot say what I want in Lili sets because some of you are being overprotective, then commenting in Lili sets is not worth it anymore.
Guest
Don't misunderstand, I think we all want to see the same things.
TM can confirm that I often ask to see more revealing things when I tribute her, but I always have a tribute full clothed if I ask
I just wanted to react on "there is no progress" and "At the moment I see only steps back".
I'm maybe wrong for the years but for the most revealing days :
Naked, Summer, Chocolate Shower and Creamy are from the same day; Night Out and Nurse Lili also the same day; they all were shot in 2014.
Grand Prize, Another Christams, Night Robe, Lace Peek etc… were shot the same day in 2015.
Pink Mesh, Special Fruit, White Mesh and Naked Mesh were shot the same day in 2015.
etc… You can find some days of shooting that are a safe bet. And then it's random until 2018 or now(?).
After a lot of try to ask by tribute way (as I said before) if there is a set more revealing than those we have already seen, I ended up understanding and accepting that Lili does her job in her way and we may see some glimpses or see through sometimes but she won't do more to show us directly what we want. So it will depend of the outfits she would wear at the end.
So you can say there is no progress as soon as she is constant at what she does. Then it's TM who selected what to show on the photos sets (they said on day that there were some outtakes here and there) and when to show the sets.
The problem of "progress" is "steps back", if TM would decide to release all the best sets, when would they show the other sets less revealing if it's then called "steps back"?I think the way they release sets need to be a bit random like this to don't have this feeling of "steps back". I would also want, like everybody, more revealings things of course but I want to see everything from her, I don't like lost archives…
It's just my two cents, I don't work for TM, I'm a Lili slave but I don't protect her either. I just tryed to explain my opinion.
Support
We have plenty of sets from all time frames left. The best sets tend to be ones like Grand Prize, where she isn't necessarily showing as much as she is here (topless, etc), but the outfit makes it more intruiging. I think everyone (even Max) will be surprised by what Lili has coming up. However, she will always be known as the greatest tease model of all time, she will give and she will take.
Her Glimpse set from her last bundle is also very good if you liked Grand Prize or sets like it.
Guest
I have no doubt on it. I just hope we will be surprised in the next event or before
Guest
teenmarvel,
"I think everyone (even Max) will be surprised by what Lili has coming up."
you cock tease, you.
talk about leaving us hanging in anticipation, just putting that out there and leaving it hanging and seeing if anyone notices what an unbelievably great announcement this is. super cool and low key just moving on.
very funny to me anyway, love the humour of it, made me laugh out loud and grin for many many minutes, actually every time i read the line it makes me smile a lot.
also it may be too much to request but would it be a possibility to do a lili discussion similar to the madison one related to the naked twerk release? you know with a few glimpses of upcumming sets and the like.
as always peace
Guest
Sorry, maybe my comment was not clear enough. The first three comments above which are you @Max, @andrew, and @b79 all enjoyed the set and I enjoyed it too. A person which has the right to comment and gives his own opinion without replying to anyone. Just because he did not like the set like everybody else, everybody came to rescue to prove him wrong!!. The question is why!! Does @Dennis opinion matter a lot? Does his opinion affect sales? I did not think so. Not everybody going to like what you like and hate what you hate. Sorry for being a Drama queen is just want the fans to be comfortable in comment without having someone nagging on their head. As long he's in TM terms and respecting both TM and model are fine by me no matter what he thinks about the set. Because at the end of the day that's his opinion. I do apologize if I offended anyone 🙂
Guest
You are right, everybody can give their opinion. But why don't reply to those who liked or hated? it can also be a space for discussion, it's the only way we can communicate here.
Afterwards, I didn't think it would give an impression of lynching. It was not the purpose.
If I replyed to you it's because I don't want you to stop comments, I like to read your comments or those from the others and when I don't see comments, I don't know if people liked or not. I like to read how people found new releases. So please continue here and there. I don't really buy the sets for the other models so I only read the comments to see how it was.
Guest
@MHS – read the first line on my reply to Dennis. I have zero problems with anything he said. I like having open discussions here, I don't think anyone should ever be afraid to voice their opinion. I actually hate it when I comment and no one says anything (like on Bedchamber last time). As long as people have constructive things to say, I am all for whatever. I didn't want to start a "hate on Dennis" train 🙂
@Max – good eye on on matching up all the sets (I'm glad I'm not the only one that does this 😆 ) Night Out and Nurse Lili are from 2 separate shoots from different times but that's the only one I see incorrect 😉 I ask TM for tributes from all time periods as well. I want to see the same archived stuff you probably do. I don't ask ( well sometimes 😛 ) for full nude tributes because I like seeing those things in final releases, but yea I am right there with you man. Lili doesn't follow the same rules of 'progression' of other models, she is a unique case.
@TM – I am very glad you have surprises left. I'll admit that even I didn't understand how large Lili's archive is, though I am starting to. Hearing things like you have 6+ more sets from just ONE of my favorites shoots in 2014 is tough because I wish I could've gotten those sets in…like 2015 🙂 She did shoot a lot and I know you can only release sets so fast, but I really really hope we can get 1 archive bundle before the end of the year. At the same time I am looking forward to all 'Glimpse' era sets and of course even the later ones than that 😉
@b79 – Lili owns our cocks

I mean…yea I would also love to see another Lili AMA type thing, it's been a very long time.
Support
Glad this notification system is working as intended, especially for Lili addicts.
I enjoy reading the comments as much as you all. It helps to know where everyone's c… head is at. Obviously Lili can't please everyone, I just hope after this long we all have come to an understanding on her boundaries. And yes the amount of sets we have of Lili are staggering. We'll do our best to get them all out. At least tributes are the best way to get a peek behind the curtain 😉 and are good treats while you wait for her next update.
I will say Lili has never been more happy in life, and all the gifts from her devoted fans have made her even more happy. I can't think of a better model more deserving of praise. 🙂
Guest
I don't use it, I like to come back by my own to see if there are reply (I just forget everytimes to check the box)
Guest
thanks for the reply TM.
I totally understand the boundaries Lili has. I've said it before, but I come from a time long before this site…so it was a big deal when Lili just wore a thong for the first time 😆 I am very happy with everything she has given me since then, but of course I have a cock and my cock will never think it's enough 😉 I know the type of girl she is, and I've always loved her tease style.
The only things I get baffled by are the archived things. When Prisoner of Love finally made it out you basically charged 50% of what you could have gotten if you released it on time. I just thought to myself…why the **** does TM wait so long? Why not just do more bundles over the years? 🙂 The same goes for leaving pics out of sets…but as you've told me before, maybe it's best I don't try to figure your brains out 😆 I really just hope for the best anymore….it's 2020 afterall.
@Max…yea I also have kept a running text file for years. 😆 …yes TM, some of us like her that much 😉
Support
@andrew originally we shot a lot because we wanted to cover any breaks she might have. I know we could do more, but honestly I like how it is now, teasing you boys and making you ache. In fact, I am sure you will soon be sending her a tribute. 😉
Guest
My last tributes without watching my bank account were a very bad idea, haha. So don't wait me this week-end I won't be able until next month at least
Guest
@TM I would argue you could do a little more and still make us ache just as much 😉 I don't mind waiting, I just hope I'm not here in 2034 asking 'hey TM when is that Lili archived set i tributed for 14 years ago going to come out? for the 137th time. Because you know I would 😆
Guest
Ah, yes… I must have squinted while looking at my excel board for Night Out and Nurse Lili
Yes I made an excel board to have an auto chronological order
Support
Guest
And for my tributes, I usually let TM choose, the discussion with "Lili's Avatar" orient the mood of the preview. When I liked a preview I ask for more or I ask sometimes to something similar to another one but it's mostly the discussion that make it. It's amazing how TM choose the preview when oriented by discussion I liked the time when Lili (full clothed) had her arms crossed after asking for a preview of the more revealing things she ever did.
I won't spoil anything more but according to TM, I've seen less than 10% of what she did… And I have already made a lot of tributes… It's crazy!
Support
Thank you Max. A fun fact, tributes are actually the #3 best seller this week. This set is #1. Regardless of what a few say, The Queen still owns this website and the hearts and minds of fans.
Guest
Hahaha, how tributes can be best seller? Everybody asked for a tribute? But tributes are for every models, not only Lili?
Support
Tributes are for every model, but so far the majority are requested to Lili.
Guest
I'm glad the tribute is in my Lili recommended section, just in case i forget 😆 😛
I can believe it's a top seller…I'm sure I am a bit responsible. and yes TM soon soon…
Guest
Oh no, it looks like I have some competiting slaves. I wanted to be her best slave of the month. I hope I was in septembre, haha!
Guest
@Max which model you support other than Lili?
Guest
Even if TM could think the opposite regarding my tributes for Lili, I don't have a lot of money, so I only support Lili.
But at TM, I've also bought some sets from Madison, Angela, and most recently Elza and Ella. On one hand, Madison and Elza are too hot and show to much for me. On the other hand, I liked Angela and Ella and I would love to see Alena but I can't anymore.
At MC, I used to support Rebecca but when Alissa and Katya arrived, I was supporting them because I like to see videos too, but I don't have everything from them. I also like Phoebe and her friends but I've also stopped to only support Lili now.
I will come back to them maybe later to see their progress.
What about you ? Do you support each girls ?
Guest
I do support a lot of girls mostly everyone in TM however in MC shortlist (Bety, Phoebe, Diana, Vanessa, and Daniela)
Guest
@Max – I've followed Lili for over a decade and I've done my fair share of tributes already… but I honestly could care less if I end up #1 or #100 on tributes. I just want her 'staggering number of sets' to be released ASAP so I can finally buy them and enjoy them 😉
Guest
@andrew
Yes, it was just a joke, In fact, it makes me happy to know that I am not the only one to use tributes so much, I may not be mad after all.
Guest
@max haha yea I know, but it's good that you are dedicated cause I need more recruits to help me ask (pester endlessly) about these Lili archives getting released 😛
Guest
I don't know if my message had been send, the page was loading in loop.
So I retry (feel free to remove it TM if it was alread sent)
It's crazy as I said before TM said that I have seen less than 10% of previews. I tryed to count but I am not sure how many different sets I have (previews of 65 sets more or less but 5 have already been released). So they may have more than 600 sets in queue that wait to be released. With at least the half that can be called old archives…
But I am with you, I also ask to find a way to release faster or make a site just for her but it doesn't work We'll have to wait. And I don't really know if I would prefere a newer after her break or older set. But TM said everything will be released so see you in 10 years at least we will see if everything would have been released
Guest
@Max – yes, you have been a busy boy. It makes me wonder why we only had 21 sets in 2019, when before we always got 26-30 per year if there was always such a massive backlog. TM has picked it up this year so I am happy to see that, but damn I really hope it doesn't take 10 years. I love all newest and oldest sets, that's my problem. TM i hope to god you have several back-up SSD hard drives 😆
@TM Friday still counts as the weekend right? 😉
Support
Sure andrew. It's time to stop dipping your toes and just dive right in. 😉
Guest
@TM Oh I am just getting started, but you know, I'm not AS financially obsessed as 'they' say 😉
What would help me the most is to see if you could dive in and break your own record. Put out 31 Lili sets by the end of this year, it's only 11 more 🙂 I want to see our original Lili schedule back. I know you can do it. 😉
Support
There might be a set coming that will count as 2 or 3 sets.
Guest
sorry TM I may have turned this thread into a right mess 😆 it doesn't like us replying so many times does it? 😉
I hope by 'count as 2 or 3 sets' you mean quality+price

but quantity is just as good!
Guest
When? I want it as soon as possible!
Guest
@TM lol well it's probably too much to ask this late in the year, but hey it didn't hurt to ask 🙂 I know you'll try your best to get sets out, I just miss the good old days 🙂
Guest
Perfect Set
Is it still possible to buy the Tribute and get some small extras ?
Support
Yes, a tribute will do that. For example, it can give you a photo of an upcoming set.
Guest
oh no i seem to have had my brain reprogrammed, i am not quite sure what could have done such a thing. i must whole-heartedly thank lili for allowing me the use of her cock, thank you.
no thinking allowed just be mindless, brainless, repeat, i am a mindless porn pumping zombie, must follow, my mind has been infiltrated and seems to have been turned off, only wanking to goddess lili is permitted everything else erase from your goonish little mind and continue gooning ( i am not sure this even makes any sense to anyone else never mind myself my weak slavish mind is befuddled with it all, but its pretty hilarious to type, anyway, thats just the state lili gets me in )
thank you goddess for allowing me to use your cock
i will seek permission to touch your/my cock when you say so
thank you for allowing me to use your cock
on bended knee no scrub that on both knees i am coerced (obviously not against my will, completely ) to shoot a worship puddle to the one true goddess, as i scurry away drained and withered and whimpering, surplus to requirements for now
until my mistress ushers me forward to do with me as she pleases, i scurry away into the shadows.
Support
tldr: b79 goes into a trance and watches multiple older Lili videos all at once, according to his messages. Whatever methods that get him to this point, I honestly have no clue.
But we thank you for the tributes. Also watching multiple videos of her at once definitely seems interesting if anyone else has the monitors for it. Let me know how that goes.
Guest
Haha, do you remember Matrix 3? When you see the Architect room? I think he may have the same setup He can play each video in loop in each monitors.
I can only play two videos at the same time or I need to reduce the video size but I prefer to enlarge them enjoy the view haha. When will the 4k be?
You should invest with our tributes to improve quality material
Guest
This is what I actually do… Every now and again I will go to a random number generator – I let it pick from 1-166 or whatever we are up to at the moment. Then I do that 3 or 4 times and watch whatever Lili video's it gives me in that random order. It gives me a nice refresher and lets me enjoy ones I might not have seen for quite some time. Haven't tried it on multiple screens at once, I think that might cause overload 😉
Guest
@andrew same for me, I usually use the random button in my media player. Sometimes in dual screen with another random or I open the set that goes with the current video. I do the same with my tributes even if they are shorter vids
Guest
wait tributes are video also!??
Guest
It can be sometimes, it's less than 1/3 of all my tributes.
Guest
Do you choose between pic and video or TM choose it randomly?
and May i ask how revealing the tribute are?
Support
A tribute is supposed to be special. Therefore, it's best not to talk about the type of tribute you get. I don't mind conversations on the amount or if you liked what you saw in yours, but talking about them too much would take away the magic.
To answer the question: Who knows. It's truly random. 🙂
Guest
TM choose it randomly. As well as the content. So I can't say what you could have because it's random.
Remember it's to tease you upcoming set so you won't see the best part of the sets to don't spoil you too much.
It was what I was talking about with Ice Queen set, I was glad that they don't reveal too much of the set.
Guest
@MHS – The first 5 I ever got were all pics, but since then TM has graced me. I will admit that I have been rather specific in my requests (maybe too much, but I don't regret it) you should let TM take the wheel so you don't miss out like me 😉 and like Max said – this is Lili…so the tease definitely carries over to tributes as well.
Guest
Thank you guys for the info 🙂 hight appreciated. To be honest with you guys if I started doing tributes I might only do it for Petra. Not because I prefer Petra over Lili, both are my number 1, and it's very hard for me to choose between those two. Lili has a higher number of fans and as TM said most of the tributes goes to Lili, so it's logical for me to choose Petra 🙂 .
Guest
You are free to tribute who you want to support. But be carefull it's really addictive…
Guest
I have tried it yesterday with Petra Unleashed Sequel and Touchy Moans Sequel oh man it blows my mind Highly Recommend doing this. Especially in the touchy moans video scene where the camera zoom in on her kitty part the other video showing her beautiful face at the same time oh man. I should have done this a long time ago. Definitely going to do this again with different models. OH yes Madison the twerk videos the Mesh Twerk and Naked Twerk these will be the perfect combination. 🙂
Guest
I also did it yesterday with Lili, Stewardess back view (3min51+) and Addicting front view (4min20+) <= it was me trying to see both at the same time. Exponential pleasure.
I can't imagine how it could be with more, you can't follow everything. And if you are at the best part in each monitors at the same time, it would break your brain like b79 did
Guest
well MHS totally ruined the 69 comments we had. nice going 😆 lol jk. I'll have to try out this multi-monitor approach sometime. I have played them on my 50 inch TV though which is quite enjoyable. 😉
Guest
May I ask if there is a link between tribute previews and upcoming sets?
I ask because in all my previews, I have a lot of previews of each new sets (the last 5 sets) and you have a large amount of sets. I'm not lucky I roll dices and I hope it won't be the same here. I mean, I hope to see sets that I don't have previews yet to have some surprises
I don't complain, it's just I thought the previews should be for sets that would take time before being released, it's why I'm asking if it influences your choices ?
Support
No, it's random like I said.
Guest
is this the highest number of comments ever on a lili thread? has been an awesome amount of discussion.
thanks everyone involved.
Guest
it's the highest for sure. b79 there are just so many exciting Lili things in our future… It is hard to contain my excitement. My poor cock. 😆