Kayley – Unwind
$14.95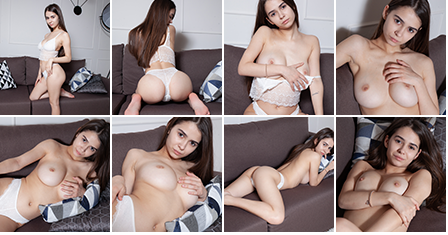 Description

Amount of photos in album: 96 pictures
Resolution: 4480 x 6720
Video Resolution: 1920×1080
Length: 7:19
Video Thumbnails:
Above.
Got something to discuss?
---
Guest
Guest
I can see that I will need to be taking on a second job to keep up with all these wonderful Kayley sets, and I am so okay with that! Thank you again for bringing her to us and to her for continuing to share her rare and amazing beauty with us
Guest
Thanks for another Kayley set. I'm not going to lie, she's my favorite 🙂
Guest
This is another beautiful set. Thank you Kayley. You look very comfortable in you shoots now. Can't wait for the next set.
TM thank you for the close up of Kayley's gorgeous bum. Would she do a set in heels?
TM will you ever bring Mika over from Fadhioland?
Guest
yes mika from fashionland! i second that!
Guest
The last 5 picts of the photo set are amazing… Kayley has all her lights on illuminating our lives!
Guest
misse Beautyful Waw day after day beauty ful
Guest
I'll say it again: she needs her own site. Full of Kayley and nothing but Kayley. You'd make a killing.
Guest
I don't understand why Kayley continues to handbra. For most part of the video, she covers up, why? It really doesn't make sense. She is absolutely beautiful and has a perfect body, but the photographer seems to be confused, that is, if they are making the calls. Her sets and videos could be a lot better. Maybe she needs a new photographer to work with.
Guest
Guest
This isn't as recent a shoot as the great sets we have been seeing the past couple of months. That's one reason I found it disappointing. The outfit isn't anything special. The modeling isn't as hot as her newer level and, personally I don't like as much any of the sets in which all the hair mysteriously has been disappeared from her arms. Maybe it was a different photographer. And maybe TM has run out of the newer sets which have been so exceptional. She's not getting updates on MC and not that many here either. I hope for some newer better sets again soon. It's a topless Kayley set, so of course it's not bad. But for me, it's not up to the level of her more recent updates.