Kayley – Reading Comments
$14.95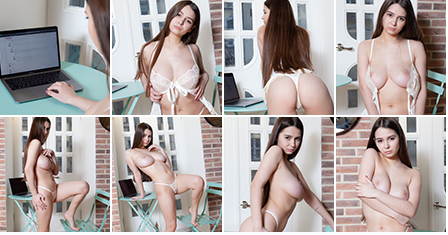 Description

Amount of photos in album: 94 pictures
Resolution: 4480 x 6720
Video Resolution: 1920×1080
Length: 7:44
Video Thumbnails:
Above.
Be sure to purchase my busty, topless, hands free set at MarvelCharm! Click here!

Got something to discuss?
---
Support
Some of you are now famous. 🙂
FYI, she does not speak in the video, she only reads.
Enjoy!
Guest
Support
Planet Earth.
…we don't give out this type of info for her.
Guest
Wong answer TM. TM it's a shame you don't know anything about your models. She is actually from planet Mars. Planet Mars are known of producing some amazing incredible beautiful hottest girls in the galaxy.I think you know few like Kayley,Lili and Petra and others. Mars is the hottest planet in the solar system. 😉
Guest
Guest
Actually, Mercury is the hottest planet in the solar system… and rarely Pluto. Tsk tsk, someone needs to take an astronomy lesson. 😛
Guest
All right, let me ask you this. Can she read English? Otherwise what's the point of her looking at the comments?
Support
Read English? A little.
Speak English? No.
Guest
So reads a little english? She could tell us to "FUCK OFF…" and not realize it. Wink, wink, nudge, nudge. 😉
Guest
I thought she was from Venus.
Guest
Can she wear high heels just one……..please god just once
With stockings!!!!
Guest
Official I am famous lol 🙂 . I can't think of a beautiful/ sexy enough word to describe you! Beautiful and sexy just fall short….
Guest
YES! I have been watching for this ever since her last set moved off the front page! There is no such thing as too much of the beautiful Kayley! Thank you to her and her photographer(s) for the continued displays of her beauty!
Guest
I agree the best part about Kayley updates is more Kayley, the worst part is waiting for the next one.
Guest
What an amazing young woman. My thanx to the photographer for getting her nice legs and very nice bum in the pics and the video.
Guest
WOW! Her best set yet. She is so confident in this set that she is driving the guys wild!! White lingerie is her best color – so sexy.
She looks and acts so seductive in this set. She seems to be demanding that the guys take their clothes off for her, hehe. I know I did, hehe!
The only thing that was missing was Kayley wearing high heels.
One question – is her photographer – a guy or a gal? She seems to be very comfortable with the individual whether she is clothed or not!!!
Thanks for a great set – TM!!
Guest
She is so sweet. I hope she will reply me.
Guest
Guest
BUY IT!!! You won't regret it.This is next level for her I think. This gives me SO MUCH HOPE for what's to come. She is so fucking sexy in this one. Just the way she presents herself and I haven't even saw the vid yet (curse you slow internet). The set alone is worth the price of admission, if for no other reason, to give her more incentive to continue on even farther down the path she is going.
And this is coming from one of the fellows who has a few select models he is faithful to and that's that. New models to me usually means just one more update added before I can see something new from "My Ladies". And I know she has modeled for a while but she was new TO ME when she came here. But slowly but surely, she has won me over. I am sold lock,stock, and barrel. And I am not even a "BOOB MAN" but Jesus Christ! I don't know if I've ever used the word Magnificent, sincerely, in my life until now but her Breasts are MAGNIFICENT! GLORIOUS is another word quite accurate to tag them with. I can just imagine thousands of women showing up at plastic surgeons around the world with pictures of Kayley saying "Make my boobs look just like these!" and the Dr thinking to himself "Damn those are perfect, there is a GOD and he does good work and I'll never be able to make this woman's Orangutan titties look like that!"
But boobs aside, this girl just has it all. Ticks off every box. She's beautiful AND cute. She is sexy and shy. That long straight beautiful hair and PERFECT eyebrows. The braces just melt you when they make an appearance. Her entire body is just text book perfection to me. Thank you Kayley for being so brave and please keep pushing the limits. I'd pay good for a solid color, sheer panty set (none of that seem up the middle BS…make a man cross eyed trying to see heaven). And thank you TM for getting this to us. Sorry this got so wordy but I think I've fallen in(ternet) love.
Guest
No model before has ever caused me to sob uncontrollably at their beauty. With this her most recently shot set she is maturing into a goddess. Thank you to TM, Kayley, and her photographer for sharing her beauty.
Guest
Hi TM, I noticed a thing in this video and some of Kayley's videos when she tries to remove her bra she teases a bit then the video cuts off 🙁 . Honestly for me personally I like when the model teases and while removing her bra then showing her incredible boobs ,especially right now when she's in a topless phase. TM can you please look on to this Thanks 🙂 .
Guest
This is a Really, really good idea. Feedback is one of the best things a model can offer her fans. I would love to see Naomi to do this since we already know she can speak excellent english and has an incredibly cute voice.
Guest
Kayley should do a Tifa from FF7 Remake cosplay set. She's got the perfect figure and the long hair to pull it off.
Support
Guest
Guest
Dear Kayley,
never wear a bra!
Signed, Planet Earth
Guest
Hey was just wondering how do you see this set it's my first time doing this I've paid got the confirmation email with number tried to track it but noting just not to sure how this works is there another email I get sent to me after with a link I have to wait for??
Guest
You will receive another email with the download link.
Guest
This might be a stretch but her eyes remind of Audrey Hepburn a classic 50's styled set would be unreal
Guest
Just purchased and downloaded the set. Kayley is stunning as ever, and her curves are getting even more dangerous… Drive slowly boys.
Guest
Hey guys/gals, this looks awesome. Just waiting for the download link. Man, I can't wait any longer…….please help me, Team Marvel……Kayley is the new Queen to me.
Guest
I know this is a busy time for Teen Marvel. A simple reply would be greatly appreciated. Kayley is worth the wait but the silence is worrisome. Please throw this old dog a bone……Thanks
Support
Are you a new customer? Send us another message and I will look at it.
Guest
Kayley is looking beautiful and sexy in white.