Kayley – Dreamy
$14.95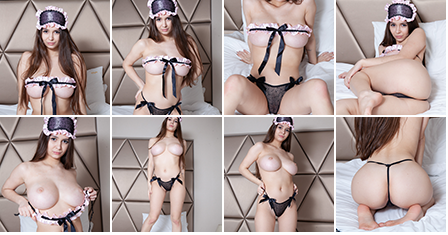 Description

Amount of photos in album: 113 pictures
Resolution: 4480 x 6720
Video Resolution: 1920×1080
Length: 6:41
Video Thumbnails:
Above.
Got something to discuss?
---
Guest
Sweet dreams are made of Kayley!!!
Guest
Guest
I traveled the world and the seven seas.
Guest
Everybody is looking for Kayley 🙂
Support
Guest
I never thought I'd see the day, but Kayley is my new favorite. I'm looking forward to her increasingly revealing sets and videos…combined with her grace, class and innocent looks. Of course contrasting with her not-so-innocent actions! What a fabulous girl!
Guest
I saw it and bought it automatically, I hope it arrives soon, please teenmarvel
Guest
Beautiful body, beautiful face, beautiful skin, Beautiful hair, beautiful breasts and, as far as you see, beautiful vulva, innie type. How to get tired of her?
Guest
We are not worthy (but don't let that stop you!!!)
Guest
Kayley, what is it like to have your fans in the palm of your hand? Another beautiful set. Picture 66 is my favorite. Gorgeous smile, your breast are in full view and legs are slightly apart. I know one day we will see you in nothing but the beautiful smile.
TM…..I need Sarah and Alice fix.
Guest
another week and we should start seeing updates
Guest
I loved it, you have to have it without hesitation, this is the way teenmarvel, very small and transparent clothes, I already want the next one
Guest
Guest
Not as revealing as the last 2, but this is the Kayley I had grown to love… she had just the right enchanting smile and looks, and promise of hidden treasures that is irresistible… a lovely set
Guest
Love Kayley! Would love to see some throwback sets of her in some outfits from older sets redone
Guest
Guest
Great set, can we get one set with high heels. I saw someone mention this before, and I only noticed she never wears high heels. One set lads, just one set please god please.
Guest
You must be the same one who asked for it before. If she hasn't done it is because she doesn't want to, there's no need to insist.
Guest
She has no competition. And she even smiles in this set. The outfit was another great choice. Hope we don't have to wait so long for her next update.
Guest
Guest
It's high time she got her own website with weekly (or even twice-weekly!) updates. She'd make a killing.
Guest
Guest
Guest
Kayley is absolutely stunning. I could stare into her deep brown eyes forever. Thank you Kayley and TM for bringing her to us.
Guest
Kayley is looking very sexy in this outfit. I Love it!
Guest
tengo una semana esperando que me manden el lin que compre porfavor amigo que ha pasadoooooooooooo