Kayley – Delight
$14.95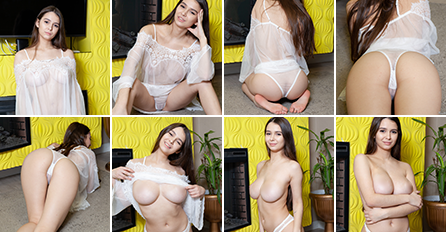 Description

Amount of photos in album: 96 pictures
Resolution: 4480 x 6720
Video Resolution: 1920×1080
Length: 7:21
Video Thumbnails:
Above.
Got something to discuss?
---
Guest
Problem downloading the video please fix
Support
Support
I know there is a MC Delight from Kayley.
But this one is still certainly delightful! 🙂
Guest
immediate purchase, please arrive quickly
Guest
This set looks delicious, besides beautiful Kayley is moving on the right path
Guest
Perfect way to end the week from hell
Guest
Amen brother. Anxiously awaiting my links
Guest
I've always been curious what the determining process is for purchases here. Mine are immediate at the time of purchase, but have to wait a long time for links in an email from MC.
Guest
my dream is to see her completely naked
Guest
This should be an instant best seller. She really does look even more beautiful in this shoot and the outfit is probably the hottest she has ever modeled in. I hope there are a lot more sets from this shoot coming soon and I bet some of them are going to be even hotter than this one, which is the most revealing so far. Thanks TM.
Guest
This is simply Kayley's most beautiful set so far. Most "revealing"…? Maybe not, but how do we define beauty? There are so many smiles in this set! I don't know if she's ever looked so… well… *happy*! She's genuinely enthusiastic posing and flaunting her assets here. It might be the beautiful sheer lace she's wearing just makes her feel that much more sophisticated and luxurious, but whatever the reason, if you've ever been put off by the lack of smiles you won't see that here.
If you are a true Kayley fan this release will be in your top 5 by the time you get to photo 21 let alone the rest of the photos and the video. This is happy smiling Kayley at her most beautiful!
Guest
Definitely one of her best sets so far. That lingerie shows off her many assets perfectly. Kayley has never looked hotter!
Guest
Guest
For me this is Kayley's best and hottest set to date. Her outfit was perfect and the only way she could of shown more was if she was naked(fingers crossed). She was engaging with the camera and that warmth came through in both the photos and the video. Great work! More sets like this please.
Guest
This set looks like a must have but is kayley still updating at mc?
Guest
This set discriminates against booty lovers ! The only thing covered is her precious bootyhole XD. hopefully that means we'll get moar booty and bootyhole from Kayley next time !
Guest
Sexy sexy I might be in the minority but I preferred her with smaller breasts.
She has such a great ass I could motor boat those ass cheeks all night long.
Guest
I think we got more personality in this set than all of her sets combined she somehow keeps getting better not sure where she'll peak but I can't wait to find out To comment on the booty comment I think we just want what we can't have Lili has always done a good job of not quite showing everything And nothing makes me happier than to see a set preview that features that albatross of a bum!!
Guest
Best set to date, if you think sheer panties is better at twice the price, then you're high. Loved the smiling, I know models like to sometimes not and pose, but she seemed more playful which I enjoyed. Good job by the photographer as well. Kayley keeps delivering and doesn't disappoint and looked incredible.
Guest
It's fantastic to see her coming out of her shell! That smile makes her all the more beautiful!
Guest
Wow!… Just WOW!… this is totally her best set yet… her smile… her lack of apparent shyness… she and her photographer together knows exactly how to do it right.. . I can't imagine what an "unleashed" set would look like… or would cost.. anyway,y Kayley never disapoints
Guest
hoping I don't have to wait too long. looks fantastic. I wish you guys had a better way of purchasing your content.
Guest
OMG, she smiled in a couple photos!!! Like right at me. As great as her obvious assets are, her smile is incredible.
Guest
Kayley as always you are gorgeous. This is the lingerie for you. Can't wait for the next set. Keep smiling.
TM – Mika from Fashionland would look amazing in this lingerie.
Guest
Agree with what others have said about Kayley's smile. She does the sultry look very well, but when she smiles she lights up like the sun. She looks relaxed but playfully happy, and its a great look for her. As for the outfit, lighting, photography and general production of this release…sheer perfection. Thank you!
Guest
Kayley is looking very sexy in the sheer white lingerie and is showing a beautiful smile