Kayley – Bunny
$14.95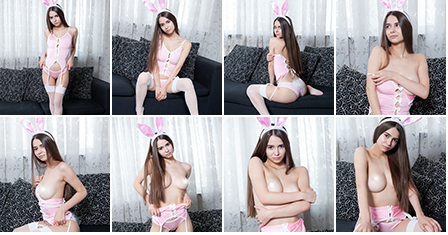 Description

Amount of photos in album: 99 pictures
Resolution: 4480 x 6720
Video Resolution: 1920×1080
Length: 6:49
Video Thumbnails:
Above.
Got something to discuss?
---
Guest
Here comes Kayley Cottontail
Hopping down the bunny trail
Hippity hoppity right into my bed…
Guest
Thank you. She looks adorable.Now I need to decide… her Christmas set or this one. Hard choice.
Guest
Both, gotta practice surviving without food in case you make it to the post-apocalypse
Guest
Learn how to eat bugs and grubs…. haha.
Guest
Although she is cute in this one, if I had to choose, it would be the Christmas set. The real question is…The Christmas set on TM or MC? muahaha…
Support
Both sets will get your heart pumping. 😉
Guest
Indeed. I purchased both. 😛
Guest
Up until the point the damned security characters cover her breasts.
Guest
Next set do white stockings and high heels !!!!
Guest
Guest
Awww Kayley is so damn cute as a bunny.
Guest
Getting a lot less shy to boot. At first you never saw so much as as nip-slip, then after what seemed like an age-long wait she finally did some brief toplessness, and now she's topless most of the time. I wonder what comes next…?
Guest
What, no holiday joke.
Easters come early and so have i…
Too far?
Ill show my self out.
P.s. always lovely to see kayley.
Guest
Guest
Kayley > every Playboy bunny ever
Guest
This is my first Kayley purchase. Oh my goodness!!! All the comments about her breasts are true! That body is stacked…I like she still seems shy and kinda innocent. I hope she continues and gets a lot less innocent
Guest
Guest
I hope she does more of these costumes, this one really had me smiling. Those doe eyes, the garter and stockings, love em! So sweet, innocent, and sexy, that is why I love Kayley!
Guest
Amazing young woman,everybody is fixated on her breasts,yet she has nice legs and an amazing bum. She is about as complete as any woman could hope to be. Thanx Kayley and TM,another great set.
Guest
Right you are Doc, those.legs and her butt are a work of art.
Guest
Thank you Kayley… you are wonderful
Guest
Kayley in weding dress and white lingerie would be great.
Guest
Your invited to our wedding!
Guest
LOL!! To hell with the wedding,I want to be there on the honeymoon 😉
Guest
I'm not sure this suggestion will be read by Kayley herself, but anyway here goes. If there is an email address for suggestions, please tell me 🙂 You could buy a real bunny and make a video/ picture set with it while playing with it, on the floor on a furry carpet. It could be the first set where you appear completely without clothes, and with the bunny hiding (a little) what you want. I bought already 4 sets and looking in the store for a 5th, 6th, etc. 🙂 One last tip to make it perfect: you keep your lips sealed shut during the whole video's, but just breathing with an open mouth and smiling/ laughing would be irresistible. I'm a big fan! Ciao ciao