Ella – Premiere
$9.95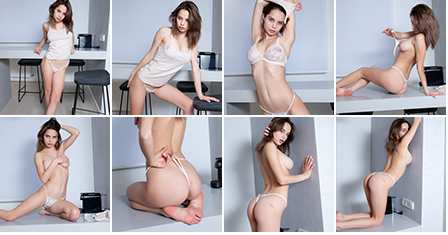 Description

Amount of photos in album: 125 pictures
Resolution: 4480 x 6720
Video Resolution: 1920×1080
Length: 7:27
Video Thumbnails:
Above.
Got something to discuss?
---
Guest
The model looks familiar and I told myself I will not buy it until I know who she is!!. It took me a while, now I know, I get to enjoy the set in peace lol. Welcome, Ella. TM, not complaining it's always nice to see new faces but don't you think you're overbooked!!??
Support
Would you rather have us underbooked? 🙂
Only thing we need to work on primarily is more updates!
Guest
I need to ask,is this the same Ella that was going to join Masha's Models?
Guest
Touché TM Touché. Ofcourse i would prefer over 🙂 . TM you need to forget about 3 days update and stay only with 2 days 🙂 .
Guest
Zoinks!!! Ella Shaparenko! So HOT!!! Her eyes penetrate… and that body… I assume this appearance is another "test"… but if my vote counts for anything, I hope this leads to regular exposure for her here… I couldn't wait to comment… now to partake… and… enjoy!
Guest
I agree. The eyes! And that sexy overbite. Very "supermodel".
Guest
Guest
Guest
Wow – this set really does her justice. So amazing to see her on TM. Maybe she'll take Kaylee's path on here
Guest
ELLA!!! Love her, thank you TM for bringing her onboard! Can't wait for more!
Guest
What a great new addition TM,looking forward to seeing more of this beauty
Guest
Guest
So happy to see her here. Great pick tm!
Guest
Such a gorgeous young model! Love having her shoot for TM.
Guest
…wouldn't mind seeing her shoot for MC as well, so we can enjoy her more often.
Guest
I wish you would get Karisha Terebun out of retirement !!!
Guest
Guest
Since when has Karisha been retired? She literally released a new set *today* on Feb 8th! Veta has recent content as well, so this comment confuses me.
But absolutely yes!! If TM can get Katrina and now Ella, I'm hopeful more models from that stable will show up here!
Guest
Honestly speaking I hope not. Do not get me wrong I like those girls but they have been doing the same things for years. For me, I prefer in TM investing in new fresh models and exclusive as they did with Naomi, Madison, Petra, Diana, Elza, Cutie, and others or bring from the same Newstar studio Lili, Kayley, Luna, Melissa, and others. TM in 6 years they build something amazing and uniquely different from all the other websites why change their philosophy now. I am not saying don't bring models from other websites they did bring some amazing models like Katrina, Sofi and now Ella however their main focus is to bring new fresh and exclusive models like they always do 🙂 .
Guest
Well maybe if Karisha would come here she would show a bit more, ever think about that ?
Guest
Karisha quit modeling last summer when so got married …. they are no new sets just old ones that never got release … they just say it's "new" but it's really part 2 of old sets.
Guest
Ahh okay, good to know! She was never going to do anything more daring, but we'll always wonder what might have been….
Guest
holy shit, Ella is one of my all time favorite models! Welcome to teen marvel =D instabuy for sure
Guest
Fair Lady indeed.
Really nice, good addition
Exotic looks but I think
Yellow is a better colour.
Awesome, she going to stay
?
Guest
I joined her private page on her Instagram. She is NOT shy. <3
Guest
Guest
Can I say it? I don't know the rules. It's not a personal page it is obviously her modeling page.
I guess since this is moderated if I can't then no one will ever see this…. hahaha Instagram: molly_ella_
Guest
WOW! I absolutely love Ella, great addition to the site 🙂
Guest
I dunno if my opinion has any weight here, since I didn't buy the set. However, I think TM/MC should focus on finding new talent. Seems you are relying entirely on recruiting girls that are/ have been already on other websites lately. I do like Ella a lot though, not sure if she quit at GM?
More "fresh" cuties like Bety, Phoebe and Elena please!
Support
Don't worry, our goal is always new girls, never shot anywhere before.
Guest
We need more, WAY MORE <3 <3 <3
Guest
Was on the fence about checking her out, but very pleasantly surprised at how much I like her. Definitely going to buy all her sets. Something about her just kinda drives me wild.