Ella – Bath Robe
$11.95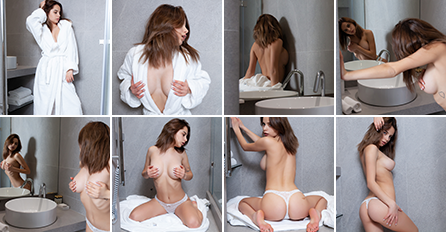 Description

Amount of photos in album: 114 pictures
Resolution: 3744 x 5616
Video Resolution: 1920×1080
Length: 7:58
Video Thumbnails:
Above.
Got something to discuss?
---
Guest
Ella is a muuuuuust buy on TM, thank you~
Guest
She did grow up beautifully
Guest
Ella looks amazing in this set.Happy she is here.
Guest
I was hoping Monday might bring the start of a Spring Event here at TM and MC, so I was briefly disappointed when I saw the page was updated without an event. I should emphasize *BRIEFLY* disappointed because when I saw the Ella preview my disappointment didn't last long! She is absolutely stunning in this set and video–a compelling combination of sultry and playful. I hope there's a lot more Ella here at TM!
PS I also hope there's a spring event soon 😉
Support
Last year the spring event was April 24 – May 5th.
Just an FYI for those who keep asking. It may or may not be that date this time around.
Guest
Thanks for letting us know I think the concern obviously is that some people are running low on funds and the girls are "essential" during the events!
Guest
OMG does this girl have amazing natural tits! Wow.
Guest
Ella is incredibly sexy! Fingers crossed that she has an update in the next event.
Guest
She is the perfect GF material, i love her thanks
Guest
@TeenMarvel Any plans on doing a "quarantine sale" anytime soon? Just curious 😉
Guest
@TeenMarvel (Question #2) – Any Freya releases coming in the future? I am sure many have been waiting, or is she not modeling anymore? Kind Regards.
Guest
beautiful girl, need more frequent updates!!