Sofie & Bella – Playful
$11.95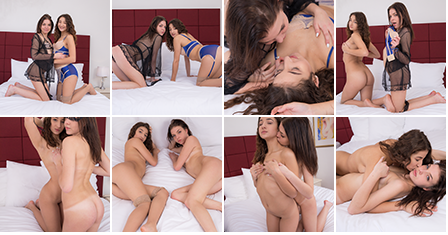 Description

Amount of photos in album: 123 pictures
Resolution: 4480 x 6720
Video Resolution: 1920×1080
Length: 10:40
Video Thumbnails:
Above.
Got something to discuss?
---
Guest
Wow, Bella is cute af! I didn't even notice her until this post.
Guest
Bella please come back to us!
Guest
OMG! Finally… more Bella!!! and more Sofie too… both of these ladies are incredible separately, or as a pair… hope there will be more of both of them to come in the future… and not so long of a wait. Thanks TM!!!
Guest
this probably old set, will bella come back, she gorgeous!!
Support
We have plenty of sets from her. I don't know if she will come back yet.
Guest
Honestly TM, sometimes I do not know how you guys do things here anymore. Bella is one of my AAA lists. I buy her sets in a heartbeat. I even remember you did a voting system between four models Elizabeth, Caroline, Bella, and Avery. Both Caroline and Bella won. I was happy that Bella was part of TM. However a lot of changes happened in the last 3 years, even MC has changed. I do understand that Bella has to leave but I do not understand why you kept her sets away from us. I was willing to buy her sets back then even if she's gone. As she was still newly gone and maybe buying her sets might change her mind. You can even check how excited I was in the Bella Pink Sling's comment section. Sadly I cannot say the same anymore. I do hope for Bella fans that you continue releasing her sets. Maybe just maybe with enough support she might come back. However, for me, she will only be on my AAA list if she decided to come back other than that I am very sorry.
Support
Sometimes it's good to reintroduce models that haven't updated in some time, like this, but I understand your concern.
We don't deliberately keep a model away, it's just that we have lots of models and lots of sets. Obviously, if we could update dozens of models equally and consistently that would be really nice, but we have to prioritize. Showing your support now even after a model takes a hiatus is equally if not more important. It's how models like Kris come back, or models like Alissa or Nika at MC. Even Caroline took a hiatus and returned after a long time, so it's always important for us to know if there is still interest.
Guest
Thanks, TM for the reply. I understand and I do agree with you. Maybe Bella one of the models that need time. Just to be clear to Bella fans and to you, I am not trying to be stingy here. You guys know how far I am willing to go when I support a model. TM you said a very important word which is prioritized. Which what I am doing here. MC was never part of my plan to support them the same way I support your website. MC did surprise me a lot this year. MC is not the same MC that I have known in the past 4 years. It started with Phoebe and they keep adding new models lasted one is Tina. Now I support 8 models in MC Phoebe, Sabinka, Vanessa, Bety, Diana, Daniela, Kayley, and now Tina. Plus with the models I support here and the Tributes. That's why I need to do some sacrifices. I hope you guys understand what I am going through here. I still hope one day she comes back. She definitely going to be on my must buy if she comes back.
Guest
Sofie is very beautiful, and she has a Cleopatra-style nose. When will we have two videos of Sofie at once?
Guest
That cute pout face, looks a loot like Rebecca (MC) in her early days. I'll stay on the lookout for Bella.
Guest
I have always liked Sofie but but OMG Bella is so beautiful in this set. looks like I have missed here and I have some to buy in the backlog.