Petra – Sucker
$14.95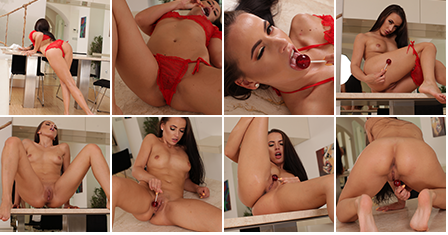 Description

Amount of photos in album: 123 pictures
Resolution: 3744×5616
Video Resolution: 1920×1080
Length: 9:43
Video Thumbnails
Got something to discuss?
---
Support
READ: Petra is coming to shoot soon, and will answer some questions from her fans. If you have any questions for her, you can post them here or send us a message. If all goes well, she will be making a video with your answers. 🙂
Guest
Thanks TM and the photographer for making this happen 🙂
Guest
I would love to see a Petra and Naomi series ❤
Guest
Question for Petra : If you could do a duo set with any TM or MC model who would it be? Also why would it that model be Lili?

Guest
We will shot again in next flew days, so you have opportunity write me your's ideas, and we will try make it happened. 😉
Guest
I hope I am not too late. I do have a few ideas. But before I start, I did have a glimpse of Petra's coming sets, and what I have seen you did an excellent job 🙂 .
My Ideas,
1) As I mentioned this before Sexy football Theme
2) sexy Christmas Theme
3) Cosplay ( example Tomb Raider, Wonder Women, Police uniform) Surprise us 😉
Point 1, I hope you make this happen 🙂 . Point 2&3 are extras I believe you might have much better Ideas.
The next part is the explicit ones.
1) Similar to Touchy Moans but more extremely in other words fully Masturbation set (●'◡'●)
2) Toys (●'◡'●)
As the winter event is next month. As most of the time, the most explicit and extreme sets are released in the event so Surprise us 😉
Please note the explicit part is not a necessity 🙂 . The most important part is Petra's comfortable level. I do not want to scare her off. I love the way she does things now and she can keep doing this forever. As long there is a Petra set, I am very happy. 🙂
I am not sure I am allowed to say this here. In her recent sets, I have noticed Petra keeps touching her a***. I am not a big fan of this but I am really interested to see how far she's willing to go. 🙂
Thanks
Guest
I forgot to add one thing. Any chance for a butt-shaking or twerking set 🙂
Support
You should reply to our e-mail.
Guest
Guest
I agree! Maybe a butt plug in there to spice things up, i see she got a loli stuck to her asshole in this set thats so dam sexy!!! Or maybe a set with her wearing a very small slingshot bikini on the beach while applying oil to her amazing body…
Guest
Also, if you have any questions for Petra. Now you have chance to ask her. We will bring her answer's to you.
Guest
OH MY! Such a very incredible update. It just all adds up, Petra as gorgeous as ever, the close up pictures and part of the video, Petra really knows how to make it off the scale hot and the photographer captures it perfectly on photo and film. Just brilliant.
@ admin, I think you might have forgotten to put the banners on top of TM / MC! Here at TM we're getting wonderful update after wonderful update and MC is killing it with the doubles. Either that or I seriously worry about my survival when the next event hits.
Again, this is an incredible update!
Support
Thank you. Yes, lots of wallpaper potential in these photos!
Guest
My beloved Petra is back :). I just bought it, but sadly can't able to watch it until Sat or Sun. The wait going to kill me. 🙁
The preview that I got already suck me dry. Now the entire set is here I don't think there is anything left to suck. Oh, wait mmm there is one… 😉
Photographer, what happened to lollipop once the photoshoot was over?
Photographer, I do hope the lollipop that TM gave you, going to make Petra very happy 😉 . I wish I was able to see her reaction when she gets her lollipop 😉 . Seeing her smile will make me very happy. I heard the lollipop comes with sparkles on the side. Also, I heard there will be even more Lollipop coming soon maybe after Petra Adventure. 😉 🙂
Thanks in advance 😉
Guest
First at all thank you. And about questions. Yes, this lollipop really make her happy. She is playful girl. 😉 And what happed with this lollipop? She take it on the road to home.
Guest
Finally, I was able to watch the Set. MAN OH MAN!!! What a breathtaking Performance from Petra. I loved the start of the video, where she started cleaning, feels that she does not know the camera was on, and then she did her sexy pose with the hair and the looks amazing!!. Excellent job for both Petra and Photographer for this. I do not want to spoil much but near the ending where she was able to hold the lollipop between her a** without falling WOW!!!. Even with the lollipop touches every part of her body but she still licks it again WOW!!. In the last part where she offers the lollipop and a wink that was it for me. Why I have a feeling the last part was meant for me 😛 . Petra is a true example of being an excellent model. I have no doubts and regrets with all the support I gave her. She deserves even more. All I want is TM to put a little bit of an effort into releasing more Petra sets Please. Thank you all for an amazing job. 🙂 (❤ ω ❤)
Guest
Photographer thanks for it 😉 . Finally, after all these years It finally happened, it was really nice for her to do 🙂 . Thanks for all your hard work 🙂 .
Guest