Lili – Westerner
$11.95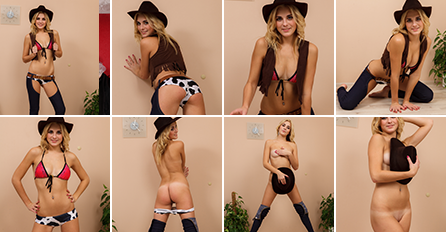 Description

Amount of photos in album: 124 pictures
Resolution: 4480 x 6720
Video Resolution: 1920×1080
Length: 10:17
Video Thumbnails:
Above.
Got something to discuss?
---
Guest
Thanks for Lili, TM. I wasn't expecting anything more this month, so it's a nice surprise. No matter what happens, she'll always be my favorite cowgirl.
I always loved this classic session. Photo #106 is a real stunner, wow.
Guest
Uh oh Andrew, "No Matter what happens…" Does that mean something not so good is coming for Lili fans?
Support
Oh, he knows Lili isn't going anywhere. 🙂
Guest
sounds very reassuring from tm but that begs the question, what does he know?
Guest
I wonder what we have done to deserve another lili release so soon after sailor? lili's updates often completely catch me off guard and are very difficult to keep track of that's for sure.
oh goodness andrew that 'no matter what happens' sounds very ominous indeed. me being a natural realist/pessimist
would you be able to expand on the sentiment behind that statement or if necessary tm could give us an update to put my mind at ease as that statement sure makes me worried for the future of lili updating at tm.
or maybe I have totally and completely misunderstood your sentiment and you are just generally lamenting/commenting on how the other girls of tm are shooting much harder content than lili these days
example's being explicit girl girl, pussy play, toys etc and us lili obsessives long for lili to shoot some similar type content
peace
Guest
Sentiment is a good word for it, though I am afraid I cannot elaborate much on my true meanings. It is not easy for me.
Good things are coming for Lili, no one needs to worry about that. I will always do my best to make that happen.
I'm not and have never been concerned with what other girls do at TM or MC do, they are not Lili. Harder content does not always equate to better content. I love unique and fun Lili content that stays within the limits of what she is comfortable doing, that's my favorite. I know it's human nature to make 1 to 1 comparisons to other girls here and at MC, but Lili has been very generous with us already. Just be patient and enjoy what she gives us in time. (easy for me to say right TM?)… 😆
Unfortunately, as much as I'd like to be in control of Lili's releases, it's just not up to me. It's solely up to TM and what they feel like releasing. I promise, people would be a bigger fan of mine if I were able to choose what came out next. 😉
I never know how detailed my answers can ever be, but I hope this helps ease your minds a bit.
Guest
Andrew thanks for taking the time to post your response always intriguing to read your posts.
most intrigued by your thought
"I promise, people would be a bigger fan of mine if I were able to choose what came out next. "
definetely sounds hopeful with your extensive knowledge of future content of some great future content from lili that could possibly rival grand prize, enchanting, pestering pasties, pastease, perfect peeks sequel pictures #96 to 101 but this time on video, I could probably go on for many hours of past and future releases I will just leave it there with a very small selection of personal favourites
my ultimate unreleased fantasy would be private tutor v2, further releases featuring lili & Jaina, cum to think of it there are many many fantasy pairings I would lust to see be made. I have posed the question several times over the years to get a feel to who other lili slaves/posters would lust to see lili shoot together with for there ultimate wank fodder pairings but folk seem to be reluctant to share such thoughts here anyway or anywhere else for that matter.
maybe this time a few brave slaves will share their fantasy lili pairings thoughts with us.
peace
Guest
A duo session for Lili would be extremely difficult to coordinate, but nothing is impossible… For me I think the best fit and most likely pairing for Lili would actually be Petra. She has a ton of experience with great energy and has recently worked with several other models. I think she could help Lili get more confident and comfortable during a day of shooting as a pair more than anyone. A duo shower of those two would be a dream come true for sure, or a private tutor type sequel as you said b79. I feel like those two would have fun together.
Guest
lili and Petra, very nice indeed Andrew. I only have a small collection of Petra's releases pink mesh I think is one that cums to mind, wow lili and petra together shot in that style, dream level stuff. lili shot in the same outfit but with the title pink mesh 3 if anyone is interested in checking the outfits and shoots out you will not be disappointed. having a look over Petra's shoots over the years via the previews here she definitely seems to fall into the category of shooting much harder content looks like a lot of pussy action, insertion of objects/fingers/toys and now girl on girl shoots from the previews you could well be right Andrew she looks like she could most definitely lead lili in all sorts of tantalising new directions for both there and our pleasure. great call Andrew now if only it could be made to happen, like you say if only you were in charge of future releases the content would be awesome indeed.
I don't know if tm will allow such discussion but your comment on "a duo session would be extremely difficult to coordinate"
would you be able to expand on that thought?
Guest
Lili and Petra both have a larger extended family than in years past so they are busier in general now. I'm no expert, but with a duo session you'd also have to satisfy both parties equally and have them see eye to eye on content produced. (As you said, Petra is more daring, but has already worked with Sabinka and Phoebe who aren't as much.) Agreeing on a location and time that works for both is difficult as well, and I believe they use different photographers so that's another potential hurdle. It's also just extra time and expenses for travel if one of them had to go to the other.
I'm not too fussed about duo sets personally, I prefer Lili in solo situations. I think they can be fun change of pace though like the Jaina sets you mentioned. I also enjoyed Lili's very early duo sets she did with Melissa.
Guest
"you'd also have to satisfy both parties equally" wonderful thought andrew I am in total agreement with you there.
I think I see what you are saying now thanks for fleshing it out for me. I think my mind just gets a little addled when one of the other girls shoots in a location or an outfit that lili has shot or worn herself I often think wow they must not be to far from each other & the fantasy of them appearing together in a duo shoot just takes over.
I hear what you are saying about solo vs duo shoots but the fantasy factor of lili & Madison together again now Madison seems to be fully unleashed dominating lili is almost too hot to fully comprehend such an update or the too hilarious to Finish typing this combo properly lili & romana linking up again, in the sense as to how far romana has gone since lili & herself last shot publicly together, pure hand pussy wanking bliss.
obviously these combinations would be first time wonders & pure wanking fantasy on my behalf like say lili & cutie, lili & naomi, lili & Victoria, lili & Sofi, lili & caroline, lili & Daniela, lili & petra, lili & lilith, lili & Diana, lili & Elza. maybe there are some other combinations that could be made to happen I mean who saw cumming lili with Jaina to me anyway seem to cum out of absolutely nowhere which I absolutely love by the way.
maybe I am the only one but surely not who lust's after these combo lili releases I am not sure it has ever been clarified as to why lili doesn't shoot more of these types of releases maybe for the reasons you state Andrew or maybe for some other reasons not known to us, would be real wonderful if tm could chime in & give us some insight as to what is what with regards to lili & other models shooting together again.
peace
Guest
keen eye Andrew with that pussy peek very easy to miss for balance try photo's # 44, 45, 46 pushed together cleavage heaven.
Guest
Giddy up!! I hope there's more sets just like this to come what a nice surprise
Guest
If lili needs to practice her cowgirl/on top position I would be more than willing to allow lili to master her balance and ride on me I am sure it will be a little bumpy to begin with but lili will ride it out and get the hang of it soon enough, I'm sure.
Guest
b79, You are probably the most entertaining commenter ever! Here's my fantasy pairing: Lili posing as she does. But, you are in the room prompting her, complimenting her, saying out loud things that you normally type in your comments. I know that's on the edge of pairing. But, your commentaries are so descriptive and I am always saying to myself, "holy crap, did he just say that? damn!". Imagine calling a live Lili show? Hell yeah bro, you can be the modern photo session's "Bob Guccione"! Peace..
Guest
Paulo thanks for taking the time to comment & thank you for the compliments, definitely brought a very large smile to my face so thank you for that.
wow lili taking direction during a live show, funny & sexy as fuck at the same time.
an older chap say not in such great shape perving & directing goddess lili to spread a little more so he can get a real good shot of that, or lili put your full milf tits together so I can get a real good shot of those fucking awesome nipples for the pervs at home.
great call regarding lili taking direction during shoots have commented many times on that very point paulo, I like you get very horny at the thought of lili being directed & for us to eavesdrop in on such verbal direction(I know, language barrier type problems but just now & again or even just once full & proper put some English subtitles on the releases letting some of us who fantasise about such things in on the conversation, my bias of course with regards to the English subtitles as I obviously don't know what the exact purchasing demographics are.
example might be say ok there's a lot of horny purchasers going to see this shoot so put your tits together so the horny wankers at home can blow there loads to your perfectly formed & pushed together titties, you know things like that, what do you say Paulo would you or anyone else join me in such a request?
another cock hardening thought to mull over, I'm sure some creative lili slave may help us imagine/fill in the blanks during the conversation going on during say for example https://www.teenmarvel.com/product/lili-perfect-peeks-sequel/ specifically pictures #96 to #101 by filling in the blank here with the potential direction conversation going on before, during & after such fine ass pussytastic cock stiffening shots, so we can all perv out at the thought of sweet & innocent lili taking porno advice/direction from a videographer whilst we masturbate & flick our *************** to her humbling & awesome beauty, be as descriptive as tm will allow/publish
happy wanking
Guest
lololol – the master practicing his art…
Guest
It was OK. But I hope that we will still see a new Grand Prize as a gift to her fans for her anniversary.
Please a new Grand Prize!!
Guest
shyboy what date is this anniversary you speak of? it certainly sounds like an important date if you are invoking a new update to previous landmark past grand prize releases, somebody will hopefully confirm if a new update is released this will be version 3 right?
which outfit as worn by another teenmarvel model shyboy would you most like lili to wear for v 3.0 if you could choose? I know its an almost impossible headfuck to choose just one but I will start the bidding by saying pink mesh as worn by romana in this bundle from a few years back https://www.teenmarvel.com/product/spring-bundle-2019/ lili in this little number should certainly get the blood flowing in all the right places.
Guest
Wow I have to get this one now if it's sparked this much discussion lol. I fully agree with you guys about models keeping up or going stale. I enjoy most exploring more provocative poses or actions most of the time. It's awesome to see a model "Progress" as the sets go by even if it eventually leads to porn…… but NOT LILI! I truly wouldn't want her to even go the Masturbation route. It just wouldn't be "MY" Lili… ya know? I have been a fan of hers so long, all the physical stuff is already edited to perfection in my head. All I need to know is what she is wearing today haha.
She is the Queen. She will always be my Queen and she has made it way longer than most just being her, "don't fix what aint broke" they say lol. She really is current and iconic all in one package and I truly thank her for years of bliss, uncontrolled excitement when one of her sets drops. Now don't get me wrong… I fully support and honestly look forward to her "showing a lil more" or "whoops… best slip ever!!'. That's part of the fun of getting a new set. So any and everything she wants to sensuously and naturally show me, I truly treasure. I think she truly is perfect as is. It will be a sad SAD day, in this ol boy's heart, if I ever know I have just finished looking at her last set ever. Sorry so wordy…. this girl get me 'motional haha.
PS…. Lili/Kayley would still be the ultimate torch passing set to me. I assume it would take a miracle to make that happen or it already would have….but a man can dream.