Lili – Queen's Hall
$11.95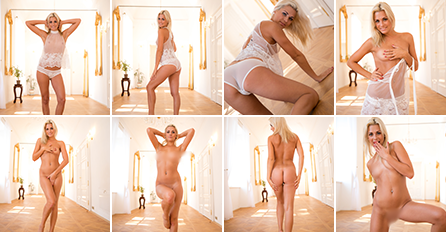 Description

Amount of photos in album: 131 pictures
Resolution: 4480 x 6720
Video Resolution: 1920×1080
Length: 10:19
Video Thumbnails:
Above.
Got something to discuss?
---
Guest
Lili. 😀
I remember getting a preview of this a year ago thinking it could be pretty uniquely shot video. It's definitely what I hoped for and more! A really hot set with a great sheer outfit! Lili and cameraman did great, I'm glad he was on point with that zoom button. 😉
Guest
its a spectacular setting for a spectacular model. wonderful combination and andrew like you say awesome sheer outfit matches setting beautifully. absolutely love the on the floor angles looking up at lili, i always crave straight forward underboob shots from lili with a top on whether it be a tight/sheer/loose/short tube/crop top giving glimpses of the underside of lilis breasts sexy alternative to hands, total heaven and straight forward tits pushed together with arms either side to get a splendid view. wow i love that angle pure wanking heaven i know she is the master of tease and movement and knows exactly what she is doing but honestly just a video of the above and below now and again would be awesome with minimal to no dancing to really savour the stunning view.
some examples for your viewing pleasure/ideas for future sessions
pastease video at 4:54, 9:27 pics 90, 91, 93, 95 that fuck look, does it for me everytime
sparkle video at 2:23, 4:13 pic 40
bodysuit sequel pics 09, 21, 37, 56, 57, 85 if only the hand from the mouth was down perfect tit shot
spoonful pic 46
supremacy pic 110, 111 but shot from the floor more nips and tits hanging forward not so covered
summer blues pics 47, 48
delicious pics 121, 122
blue slips pics 69, 70 but tits full frontal now please full nips
caretaker pics 122, 123 wonderful tits hanging forward
glimpse pic 96 that cum in my face look
house maid pics 102, 103,
seasons greetings pics 52, 53, 54, 73, 74, 75 but without the baubles please
unwind pics 04, 05
year 16 pics 21, 22, 29,
addicting pics 50, 51 minus the nip covers
white mesh 2 pics 96, 97 its extreme tease alright that shot but with photographer standing up looking down at her tits pushed together perfection
treasure pics 93, 94
mother goddess pics 122, 123 but if it was shot with the photographer on the floor looking up at those natties just hanging oh my what a sight that would be
all slow motion and repeat heaven to me, just wish the above time codes were not such a brief moments of the videos they came from imagine if we could get a prolonged view in those precious 10 minutes or so of video or a whole video of nothing but.
if anyone has any other go too favourites please add your lists. i could probably go on for hours compiling my list however i have worked up a feeling in me that needs tending, happy wanking.
Support
You are an encyclopedia of Lili content…
Guest
Nice list b79. It's great to see another persons perspective and a proper list of a specific Lili pose you love seeing her do. Also, TM's comment doesn't make me jealous, they know that never happens 😉
There are too many sets to mention as you said but I'm surprised you did not include 'Glimmering Gift' pics 100-102 and of course 121. This was TM's Lili gift to us on Christmas of 2016. It was more expensive than it is now, it used to be 19.95 but well worth it at the time. I note this as it was our 1st true extended look at Lili's (mostly) bare breasts. Sparkle goes along from the same session we got much later and I totally agree with ~4:13 in the video… I remember going absolutely nuts for that scene. Summer Blues pics are some of my favorite no doubt, but of course I can't forget Caretaker #2 / Year 16 and the rest of that session. They are Lili tit masterpieces. 🙂
Oh, and if you love bottom up camera shots of Lili, the fist video that immediately cums to mind for me is 'Enchanting'. After giving it a quick re-watch I remembered why it's still firmly in my top Lili videos of all time… 4:08 – 4:32 for the underboobs…but my lord after watching again…a special mention for 3:02 – 3:10 of the video. I forgot what an incredible view we got there, wow. I wish that shot was in every video of hers. This video also has her amazing fast butt shake moments I LOVE. I actually already have a growing list of those compiled already 😆
" i have worked up a feeling in me that needs tending, happy wanking."
Anyway, This goes double for me right now 😆
Guest
andrew you always brings such great knowledge to any lili discussion and as always thanks for responding.
glimmering gift slipped my memory completely will have to be honest i seem to have a hole in my lili collection must have been on a older computer/drive as i dont seem to have it currently maybe teenmarvel could provide a link to redownload i have an order number if required?
hopefully if i can get them redownloaded i can reacquaint myself again with what from looking at the previews does indeed look like just the thing i am talking about. simply does not seem possible that it was released dec 25th 2016 thats five years ago, time really is flying by these days.
outstanding call with enchanting, perfect of course all time great release as soon as i put the enchanting video on to the time you stated instant hardon had to stop video as i am busy cooking something and with that video playing no way on earth could i have left my food i would have had a house fire. the 3:02 section my lord the ammount of times i have shot to that splendid sight, great call.
andrew or if anyone else happens to read this check out the perfect peeks sequel pics 96 to 101 i remember getting the preview 9 months before release pic 100 and thinking how or were can tm and lili go from here, so so awesomely hot. hope you all enjoy the reminder.
Support
Send me the order number and we'll fix it.
Guest
thanks b79, you clearly have great knowledge when it cums to your favorites as well.
yes, 3:02 section and beyond of Enchanting would definitely cause a house fire if not careful. 😆 Enchanting also reminded me that sometimes I wonder what it would be like to go back and hear a 'natural sound' version of some of her older videos. It's probably way too much to ask of TM, but I'm a big fan of having Lili talk and giggles (or water splashes) stay in videos whenever possible now. I will say that sometimes the overlay music really goes extremely well with the video (like Enchanting did) and others like 'England' and 'Black Mesh #1' to name a few. It would be hard to think of those particular videos now without their music.
I actually had pic 100 of perfect peeks 2 as well…also 9 months before. I'm sure TM has/had some rewards they like giving out in a group. (this one in particular being a stunning photo) I think that's fine, but given money spent I do hope some select ones of mine still remain unique to me until final release. It's just one of many reasons I don't really like discussing unpublished stuff. I would be thrilled to just be able to buy everything / all Lili in full one day.
Have fun reacquainting yourself with Glimmering Gift b79. It's a fantastic set and will always remind me of Lili Christmas time.
Guest
I've seen mentions of same costumes in other videos but this is my first actual evidence of it.
This video is filmed in the same location as Madison in 'Heavenly'. They have the same bleached out light, same upshot as they walk – clamber might be a better description 🙂 – over the camera person and they are wearing identical costumes. Filmed on the same day or just coincidence?
Naturally this calls for comparison and, risking the wrath of andrew and b79, I think Madison wins this friendly contest. The 10 seconds from 7:01 in Heavenly would take something very special to change that decision!
Guest