Kris – Play Toys
$34.95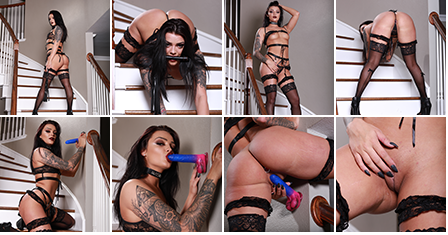 Description
Amount of photos in album: 73 pictures
Resolution: 3840 x 5760
Video Resolution: 1920×1080
Length: 6:45
Video Thumbnails:
Above.
Got something to discuss?
---
Guest
Hey! Hey! I know it's pricey but it's WORTH IT! I promise. I loved playing with my toys for you guys. The whip may have been my favorite Ive always enjoyed being spanked! 😉
Guest
Not going to lie, I didn't check the price until after I bought it.
Worth it
Support
Yay, thanks for commenting! 🙂 You did a wonderful job and deserve it.
To all Kris fans, we are open to your comments and suggestions on future shootings.
Let us know what you want to see!
Guest
I would totally be interested in some ass spreading videos XD. That would be hot as hell
Guest
Take my money please!!!!!
Guest
Absolutely amazing set. You are such a sexy woman and I love the little butt plug too. Definitely worth the price, I hope to see more like this in the future.
Guest
Hey do you have any Onlyfans?
Guest
If you are a Kris fan then you need this set, yes it is pricey, and if you are not a Kris fan this set my change your mind.
Guest
Over the years we've seen some hot sets on TM, some of them VERY hot I might add. Kris however seems to have found a whole new level of hotness with this update! just WOW!
Thank you so much Kris for this awesome set and video! I very much enjoyed it 🙂
Guest
Oh my god. OH MY FUCKING GOD!
Guest
Thank YOU Kris!!!!! Been following Kris for many years now. This, hands down is the hottest set Kris has ever made! Good Lord! have mercy on this poor soul! Didn't think I'd make through the entire video! Just like Mr. S stated previous, I didn't even look at the price! Buy NOW!, look later LOL!!! And this is only the second set of her comeback? I gotta see what Kris is gonna do to top this one in future sets. Kris deserves and entire month dedicated to her. How 'bout it TM?
While this and the 'welcome back' set are my favorite sets to date, if I'm being overly critical, I wish the video was just longer and maybe 10 or 20 more photos in the picture set. Compared to the TM models that I have bought in the past, they have more pictures in the sets and longer videos for the price. Again, I'm just being overly critical, please don't hate me. As far as the video, I feel like there was way too much extreme close-up shots. Nothing wrong with that at all I would have liked a more wider shot where we can see her face while she does what she does down there. I would have just loved seeing her facial expressions. I've always loved the way she stares at that camera lens with that naughty look.
Apologies for the long rant, TM, but you did ask for comments and suggestions. LOL
I'm super excited what future sets Kris will be releasing in the near future. Thanks again!
Guest
It was breathtaking!! Such a nice view. Maybe we can play more with the backside next set!!
Guest
Perhaps a little riding?? I like the thought of that…
Guest
Welcome back Kris. Love the new sets, you look great and this advancement into more explicit work is welcome with open arms. 😉
TeenMarvel: Agree with Yankee on the extreme closeups. Nice for a highlight but would prefer to see all of the beautiful woman and her face as she spreads, plays with toys and the like.
Support
We're reading the feedback. I agree with you all as well.
Guest
This set was well worth it!! More of the same in the future, but please make it longer. I needs me some more Kris lol
Guest
Kris came back with a big bang. What incredible two sets.
TM;
Many Photos and Longer videos.
Zoom out, definitely wanna see Kris expressions
More toys and cum sets
Touchy Moans set
Lollipop set
Twerk Twerk Twerk Twerk Twerk and more Twerk
Thanks
Guest
Amazing Kris…. Talk about a Strong Cum Back!
What does Kris think about playing with ather girls? The way that Maddie, Caroline, Diana, etc have been doing (and then taking it a step further, as she has done here)? I would love to see them fly over to Ukraine (or somewhere) to do a set Glasnost shoots: East meets (eats?) West (and vice versa; "beats" for a bit of whips and spanking BDSM….), etc.
Thank you so much for the Plug. More plug (ass) play, please.
Guest
I miss the short hair honestly!
Guest
Thoroughly enjoyed this set.i love the new direction you're taking!
Guest
when you guys shoot stuff like this, you should show more of the girl's body instead of the ultra-closeups.
Support
Guest
How long does it take to send sets? Bought this yesterday.
Support
Hi, this should be fixed now.
Guest
Support
Guest
Hi, I have tried several times to purchase Kris – Play Toys, but I always end up getting a error message even tho all information is correct
Support
Hi, I looked and there wasn't a decline message on our side. That means your card/bank on your end is blocking the transaction before it even gets to us. You would have to use another card.
Guest
It says that your site supports VISA, so i find it very strange that your site is the only one i'm having problems with. I don't have another card so your loss not mine!
Support
Nothing is a guarantee, systems are complex. Checkout info and card details need to be accurate for payments to go through.