Kris – Bubble Bath
$19.95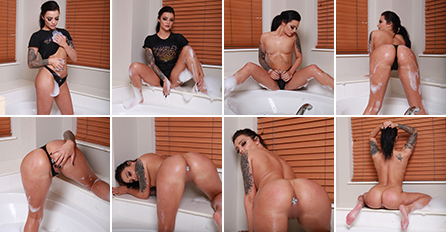 Description

Amount of photos in album: 85 pictures
Resolution: 3840 x 5760
Video Resolution: 1920×1080
Length: 10:01
Video Thumbnails:
Above.
Got something to discuss?
---
Guest
Guest
Kris is fantastic in this set, love the longer videos. Only suggestion would be to cut the music at times or not have it all since it seems Kris enjoys spankings and it's unfortunate we couldn't hear any of her making her booty all red. Feels like wasted potential not being able to hear the background noises.
Guest
She sure seems to like smacking her booty. Between that and her obvious love of the plug, I'd say Kris has a bit of a kinky side.
Guest
She's had a plug in for every new set, I think. I'd love to see her putting it in. Or taking it out. Or putting something else (maybe penis-shaped) in there.
Or I'd love to see another version of her toys set where she actually rides one.
Support
She really likes the feeling of the plug so it was kept in for most of the first shooting.
There will be future sets without plugs, of course.
Guest
Guest
Kris looks Amazing in this set – As per her usual. She – and her photographer – know exactly what to do. I am so glad to hear that she enjoys the feel of the plug. She should wear one – Always. Her bum is definitely a Marvel to behold and the plug definitely compliments her sweet cheeks.
I would definitely like to put a plug into – ahem – I mean in for – plugging all the beautiful bums of all of the beautiful models at Marvel (including Leidy). As John Smith suggested, it is always nice to see them putting it in and taking it out, lick, repeat. Even nicer to see two of them do it for each other. We should see all of their Marvelous bums Bejeweled as often as possible. And, let's not forget that every model deserves a Foxy (tail) set at least every once in a while.
I must also agree with KrissFan: Being able to hear the models is always better than hearing music. Especially if they are slapping their bums. If I don't like what the natural sounds, I can always hit the mute and play whatever I want (you can even suggest something, if you like!).
Kris, photographer, Marvel: Please Plug Away!
Kris: More, Further, Fun, Pleasure!
Guest
Please NO MORE butt plugs! We wanna see your sweet booty hole