Kayley – Nurse
$14.95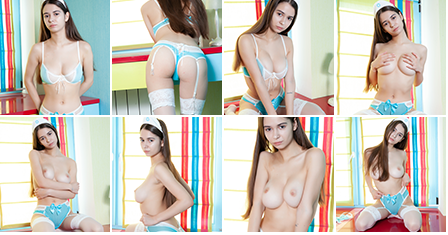 Description

Amount of photos in album: 102 pictures
Resolution: 4480 x 6720
Video Resolution: 1920×1080
Length: 7:16
Video Thumbnails:
Above.
Got something to discuss?
---
Guest
Guest
I'm feeling ill. I need to see the nurse asap
Guest
How beautiful Kayley is, for God's sake!
Guest
Doctor, doctor, send me a cure…
Guest
WARNING!: Viewers of this release may experience mild to severe symptoms of tumescence, fever, sweating, hypertension, heart palpitations, hallucinations, priapism, and in extreme cases, ejaculatio praecox. If you experience any of these symptoms, consult Nurse Kayley immediately.
DISCLAIMER!: Consulting Nurse Kayley may result in exacerbating these symptoms. If any of these symptoms increase in frequency or severity, simply consult Nurse Kayley again.
Guest
Let's be honest… how many people here had to Google tumescence?
Guest
good that Nurse Kayley is in the house. Damn damn, never felt so good to be submerged in such flawless beauty……. I keep on saying ur my dream lady. You have the cutest face, the most wonderfully shaped breasts, skin of an angel, figure like a princess and now also the more revealing side below is making me crazy, I just love the bulging of the lips below rrrrrrr (apologies for the explicit words just want to express my gratitude to the full extend :-))
Guest
Why doesnt she wear high heels – Ever!!!!
Guest
The full kitty set is 100% coming soon boys
Guest
Almost Great set… the problem is she looks like she is being forced to do something she doesn't want to… she needs a lot of work on her projection… smiling will not solve this… don't get me wrong… I love Kayley, but sometimes she makes me think/feel too much, instead of just enjoying her sets
Support
I understand. We do try to get her to smile more, but this type of projection is very present in her country. If you are interested, there are articles about this – "Why Russians don't Smile"… lots of it is tied to upbringing and work ethic. Western culture is taught from a young age, smile at strangers. While in parts of her country, this is not as established.
It doesn't happen all the time. For example Katrina smiles lots. But that's her personality, very outgoing with her work. 🙂
Guest
Love this set, Kayley is now my favorite nurse. Really hitting the costumes this year. Кейли, я люблю тебя!
Guest
Kayley is very beutifull girls
Guest
I really don't care how much she smiles or not. She's incomparably beautiful just as she is and her sets and modeling are getting better and more revealing. My only "complaint" is not enough Kayley. If she had her own dedicated site, I'd buy every set the moment it was uploaded.