Jackie – Magnetism
$11.95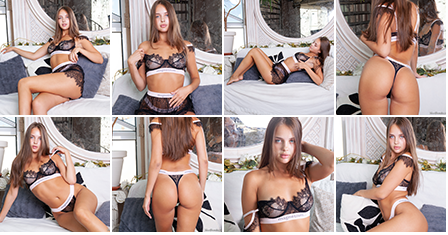 Description

Amount of photos in album: 119 pictures
Resolution: 3744×5616
Video Resolution: 1920×1080
Length: 7:17
Video Thumbnails:
Above.
Got something to discuss?
---
Support
Feel free to leave comments here for either Jackie or the trailer video.
Alex Arabella debuts next. 😉
Guest
Happy to see Alex Arabella and Heidy Pino join the Marvel family. The others I've never seen before, but I'm certain they will all have their fans. I'm most excited about the 6 updates per week news, especially if that means more and faster updates for Phoebe over on MarvelCharm.
Thank you TM and MC for all that you do. As I told MC in an email earlier, it makes me feel a lot better supporting the models that I like that much more, knowing that you pay attention to your customers and always try to bring them new models that they want to see.
Guest
I am most happy seeing 4K 60fps mentioned in the trailer! I am sure a lot of your content must be shot on 4K cameras so it will be really good to see in better quality and not recoded to 1080. Will this be for all models or just Alex? Wasn't clear as I only saw it on the Alex bit.
Support
Alex is 4K 60. Heidy is 4K 30, same with Susana.
Over time we will include more 4K footage from all of our models.
Guest
Glad Susana will be here. Hope she becomes a regular.
Guest
Goddamn, I swear Jackie gets curvier every time. She could balance wine glasses on that ass!
Guest
I just want to say you guys made a real quality trailer. Really nice, also the sound. Thumbs up.
Hope to see Amy, Bella or Eva (see had only a few sets on Marvelcharm some time ago) on this site, but perhaps that's wishing the impossible.
Guest
I'm very interested to know more of the last 2 things from the updates and the Hanna site. From the updates, will there be a case that a model like Cutie 🙂 would have more than one update a Month? And about the Hanna site, will this be separated from her site or will it replace the current one. I Hw-friends has amazing models like Tina, Hanna and Kris that I like the most but doesn't update much 🙁 so hope that would change things.
Support
There will likely be updates of model more than once a month. As for the Hanna site, right now it will be in their control, so whatever it is they want to do, that is how it will be run. We'll give guidance if necessary. I'm not sure what will happen with her other works.
Guest
Excited for Alex Arabella, the others are kind of meh for me. As for marvel charm, can we get videos to go with all the sets there like here on teen marvel? I've stopped buying stuff from there because none of my favorite models have videos.
Support
Almost all MC models have video now, including the classic models there.
Guest
Nika, Polina, and Lena aren't, and there the only models on that site I'm interested in. Guess I'm too picky.
Guest
Jackie and Hanna look most promising
Guest
Between the Heidy preview over on LeidyMarvel and now reading Alex Arabella will debut next I'm teeming with excitement!
I was assuming the 6 updates per week for TM and MC was going to be something temporary linked to an upcoming event, but reading Solid Snakes comment and TM's reply, is it actually going to be the new normal update schedule?
Very nice to see another update from Jackie, she is incredibly beautiful!
Support
Yes, that will be the official new update schedule!
Guest
Guest
Guest
Teenmarvel, what about Alexa Lopera? Please bring her to Teenmarvel!
Guest
Yes to Alexa, next to Heidy and Leidy she was my third favorite model there. I'd also like to see some of the former TSS models, although they are probably more MC material. Specifically, Johanna for sure, but also Fortuna, Luca, and Nora.
Guest
Second this, would love to see Luca and Nora from TSS
Guest
Jackie is so beautiful!! y Heidy Pino es una diosa!!!
Guest
This is all very exciting, but I wanted to ask a question, is there more from bety soon? It is my favorite after Kayley and it does not update that much, please I need it more often
Guest
Jackie, What a beauty!!! you have chosen wisely TM. More please 🙂
Guest
Would love to see Poli and Tammy Molina. They are easily the best on those sites.