Jackie – Lace Peeks
$14.95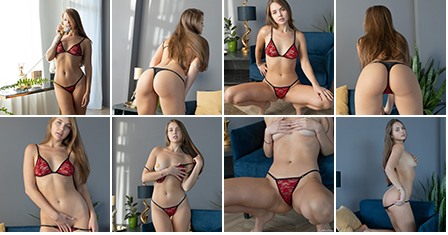 Description

Amount of photos in album: 126 pictures
Resolution: 3744×5616
Video Resolution: 1920×1080
Length: 8:58
Video Thumbnails:
Got something to discuss?
---
Guest
Guest
Guest
Could you please stop with post-production teasing or make a clear indication of it being included?
I didn't enjoy it in the past (Blurring with Diana and Lili) and still don't now with smileys or stars edited in (Jackie now again but I've seen it at least with Sabinka over at MC as well).
Please let the models do the teasing, they are perfectly capable to do so, you don't have to help them.
Just don't include such photo's if you don't want to show us more just yet.
I'm sure there are people who do enjoy it or don't mind it but for me it's a turn off.
Thank you.
Support
I have gone ahead and removed the stars in the two photos. Please download the set again. I agree and don't think it was necessary this time.
Though I can't always guarantee we'll remove stars, it is just sometimes how content is made.
Guest
Yup – very pleased you have changed your mind here about the censorship of a nip or two, especially when there are loads of peeks in the vid anyway.
Beautiful Jackie in very sexy lacy outfit and in really nice quality 4K. Perfection!! Really looking forward to the next one.
Guest
So… it's now uncensored when it wasn't before?
Support
Yes, you just have to download it again if you already bought it.
Guest