Jackie – Homecoming
$11.95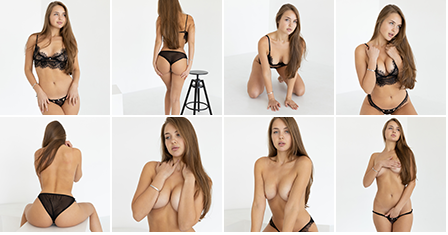 Description

Amount of photos in album: 125 pictures
Resolution: 3744×5616
Video Resolution: 1920×1080
Length: 7:57
Video Thumbnails:
Got something to discuss?
---
Support
We are happy to have Jackie back with us, exclusively. 🙂 It was very difficult to get this shoot to happen, but she was finally able to return to Ukraine. Please, if you like Jackie, try to support her during these difficult times. And we promise you will see her like never before.
Guest
Welcome back Jackie, happy to see you back home in both capacities. Come on over to MarvelFans as well! Can't wait to see what you have in store for us!
Guest
So great to see her safe and back in action here. She is such an incredible beauty. Welcome back. Great set! 🙂
BTW, the zip file I dl'd had both the pre-TM logo and the TM-logo renamed files. Scored a collectors item set! 😛
Guest
OMG I'm super happy shes back and safe. I will totally support her. I just love Jackie!! OXOX
Guest
This is fantastic news. Jackie is super hot and probably the prettiest model you have ever had.
And great news that she is exclusive as the other site she was on is not great. Some of her sets there were very good but their vids are way too short and they keep on separating sets from vids and then bundling them with other models. Bundles are great if you like both the models but if you don't you feel like you are being conned. Best to always keep bundles with the same girl. Looking forward to seeing more sets here! Hopefully we won't have to wait too long!
Guest
Jackie is best and would be great to see her in duo sets with Mia or Rebecca
Guest
Yes! Yes! Yes! So glad she's back where she belongs! Great job TM and thanks a lot!
Guest
Jackie is a flawless beauty. So happy she is safe and at home with Marvel.
Guest
THANKS THANKS THANKS THANKS
Guest
A girl which had a lot of potential. Hope to see more of her.
Guest
It's a relief to see Jackie again. It's so long since she last featured on here that I was beginning to think she was gone for good.
And I'm relieved she's now exclusive to TM. The other site she's on is okay but here you get a video and a photoset each time whereas they charge the same for just one of them. It always seems like they're ripping their fans off the way they do it.