Ella – Marvelous
$14.95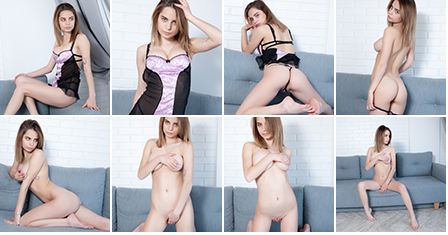 Description
Support Ella even more by joining her Subscribestar website


Amount of photos in album: 113 pictures
Resolution: 3744 x 5616
Video Resolution: 1920×1080
Length: 7:21
Video Thumbnails:
Above.
Got something to discuss?
---
Guest
Great set,definitely event level,thanx TM. I can not access subscribestar directly,but can backdoor it through AmberModels. Do you have the name of her page? Is it like subscribestarElla?
Support
The link has the name. I don't know how they work with access or blocking…
Guest
It's not subscribestar blocking me,it's my microcrap o/s saying that they redirected me too many times so they wont let me connect. If I could get the name of the Stars Page I can get through my sub. with AmberModels.
Guest
If something on your computer is blocking access to a page on SubscribeStar, I think you really should check your settings. Perhaps you've set it so strict it won't allow the new tab to open when you click on the link in the description above the video preview. If so you can always right click the link, copy it manually and paste it in a new browser tab.
If you copy it manually like this, you'll also see the name of the page.
If this still won't let you access Ella's page on SubscribeStar, you really should check settings for blocked sites as you might have (accidentally) added it there.
Guest
Ella is the best! She's really generous on her subscribestar too. Looking forward to my purchase going through — curious why they all get manually checked here compared to the auto-approve over on MC?
Support
You'll be fine next time.
Guest
Seth,what is the name of Ella's star page?
Guest
I'm not sure what AmberModels is, so I hope it's a site for still paying the model rather than ripping the content… But it's /taoofphotography
Guest
It seems I haven't given Ella the attention she deserves, what a marvelous set indeed!
Perhaps it's me but the more I look at her, the more insanely sexy I find her to become.
Guest
Fuck yes! I've been hoping to see more of Ella since she appeared on the site. Such a welcome addition to my favorite busty girls on here.
Guest
Can never pass up the opportunity for more beautiful Ella
Guest
Stunning girl. Right up there along side Kayley, I think.
Guest
Marvelous is an understatement…such an incredibly beautiful and sexy young woman!
Guest
Guest
Yep – I have right. She is pretty.
Guest
Is her subscriberstar more or less risque than her content here? Just curious what to expect?
Support
Depends on what you want. There are no full photos or videos unless you pay extra. But you will see photos of upcoming sets for us, as well as sexy candid shots / videos.
Guest
"Risque" is subjective, but there are lots of personal phone selfies rather than the professional look which feels more real. They aren't fully nude but to me they feel more suggestive perhaps? She's a sweet girl (and sometimes a goofball) so that's the aspect I like seeing on her subscribestar that isn't shown as much in these professional shots.
Guest
Ella is so beautiful, waiting for more sexy updates!!!