Ella & Alena – Creamy
$16.95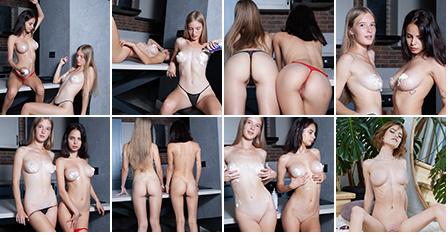 Description
Support Ella on her Website!


Amount of photos in album: 112 pictures
Resolution: 3744 x 5616
Video Resolution: 1920×1080
Length: 8:03
Video Thumbnails:
Above.
Got something to discuss?
---
Guest
THAT to start with??? OMG
Guest
kick ass set! great start to this event. Loving Ella's new daring attitude.
Guest
Wow! I have to ask to Lili if I can buy this one ♥_♥
What is the last preview pic ?
Support
Guest
Ella and Alena do a really good job together here. I love that last pic, I hope it's a sign of things to come.
Guest
Seems I'm not the only one who is amazed by the hotness of this first unlock, even with the little sneak peek I had gotten I can't believe how hot it is! 🙂
What an incredible first unlock!
Guest
Holy crap! Right out of the gate!
Guest
Great set,great way to start the event
Guest
I don't know why… I want to eat some pink grapefruit! Any idea why?
Guest
you can go at tad beyond the tease of the grapefruit on her OF page. Its another way to support this hottie.
Guest
Whoa. The bodies on these two.
Guest
Alena with another step in the right direction. Pic 38 and 3:48 and 7:20 showing off her perfect front bum
Cant wait to get more from what we got back in the "red hot" video.
Ella was also looking good. Has a more "revealing" body, I just prefer miss Alena
Guest
Alena has an onlyfans if you want to support her more, too! 🙂
Guest
I know of Ella's SubscribeStar page, but not her OF. Where do I find this info, for the both of them?
Support
We linked it in the description.
Guest