Caroline & Daniela – Delicious Duo
$14.95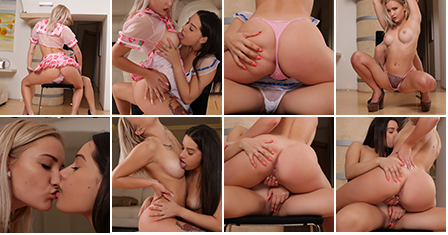 Description

Amount of photos in album: 98 pictures
Resolution: 4480 x 6720
Video Resolution: 1920×1080
Length: 9:31
Video Thumbnails:
Above.
Got something to discuss?
---
Guest
Finally !! TM You took your time
Guest
Wow. We need more of this from all the girls.
Guest
TM there is something wrong with the video the first 7 sec Lili slayer intro!!
Support
Guest
TM please update us when it's fix. So i can downloaded again thanks
Support
Guest
Omg
Caroline is a goddess. And I love Daniela!
They keep getting better
OXOXOXOX
Guest
Yes, they are. I was glad, that I was able to take this video, without shaking of camera. 😉
Support
Guest
Andrew, I am not sure if you are reading this or not, Our mind game kinda worked. We were able to mess with the video editor head, he made his first mistake adding the Lili – Slayer intro in this set LOL 😀 😀 (H) . We need to try even harder next time to achieve our goal 3:) .
Guest
mind games? from me? I would never try such things 😛 😛 😛 but yea pretty funny error, too bad it wasn't accidentally the striped top video intro, then you'd really have my attention LOL.
Guest
Another amazing set from The best Duo. Mr. Photographer excellent work. I am not sure if you took the idea hand inside of the panties from me but I am glad it happened it was fucking hot. Those who bought Diana Cruel set with definitely agree with me the last tease clip, one day must be done between those two and TM please show Mr. Photographer what I mean by that thanks.
Guest
Thank you. 🙂 And of course this idea is from you. I am trying read all comments, under my sets. 🙂
Guest
it looks so hot because these two are so sexy but the hand on the pussy everytime ruines the hottness . it is better to have a see trough pantie than the hand if they are not ready yet.
Guest
Do they keep their shoes on the whole video?
Guest
Caroline will take them down, at the end..
Guest
first off anything with Daniela is a must buy,but put these 2 together and the heat can thaw winter. Great set TM and a big thanx to the photographer for giving us another great duo set.
Guest
I have two suggestions if that okay with you guys.
1) I am not sure there is a restriction in the video min limit but will be nice if you can give them an extra 2 to 3 min as some scene I hoped that they took their time.
2) A teasy one I think 90% of the fans will love it and frustrated at the same time as TM called it Explicit Extreme Tease. However, I am not sure if TM and the models are ready for it or not but here it is. P***y licking but with pasties on giving the full girl and girl experience without showing the goods and can zoom in on the action 🙂 .
Support
Videos we are already trying to make 8-10 minutes.
Your second suggestion is cruel, and we like that. We could also just censor it, but I'm not sure which is more cruel… 😉
Guest
Thanks for liking my suggestion, I learned from the best 😉 . It's nice to see TM and Photographer take our suggestion, makes these comments worth even more thanks. My suggestion is cruel but yours are pure cruel 🙂 . I have an Idea which combines both. she wears the pasties or finds something that tastes good with less revealing anyway she keeps licking it, nearly by the end of the video around 2 min left she removes the pasties and you give us a quick good look of the goods for 2 to 3 sec maybe even less than you censor it till the entire video. 🙂
Guest
I was about to say try both and then we´d know, but the combo suggestion is brilliant. A not completely off topic request: Recently taken solo sets from Caroline, she´s looking better then ever.
Guest
Best set so far! It would have been even better earing Caroline's moans! Her expressions are so intense. Maybe Daniela would needs two more hands to bang Caroline in the future? My only complain is that the video doesn't last enough… Double the length (and price of course) would be better!
Guest
When will Daniela get her own solo set?
Support
Go to marvelcharm.com for her solo sets.
Guest
Any plans for 4K videos? I still have to buy this set but just wanted to say thanks for all the great sets and hard work! 2020 going to be a great year for this site.
Guest
two gorgeous model that are looking great together