Susana Medina & Camila – Rebirth & Pyjamas
$14.95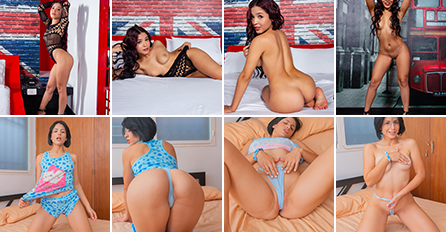 Description

Amount of photos in album: 302 pictures
Resolution: 4480 x 6720
Video Resolution: 1920×1080
Length: 21:35
Video Thumbnails:
Above.
Got something to discuss?
---
Guest
FINALLY another Camila!!!!!! 🙂
Guest
Awesome!!! Really happy to see more Camila, hope she continues to have frequent releases… and just as happy to see Susana's debut/rebirth! Long time fan of Susy! Welcome to the Marvel Fam!!! any chance of Dayana making an appearance (or multiple appearances) in the future?
Guest
Guest
Susana is a great addition. I was mostly a Heidy/Leidy fan, but Susana was definitely one of the better models too.
I think we're due for a Kayley update. Please.
Guest
Very nice!! More Latin girls please!!
Guest
Wow now time to recruit Anna from Teenstarletlatinas, not sure if her info is still on file at these modeling agencies but she will be a perfect fit for the site!
Guest
Anna was fine, but Leticia was my favorite by far from TSL. Alexa from TBF etc was my third favorite, after Heidy/Leidy. Clarina was pretty fine too. Unfortunately I keep up with like a dozen models already and Heidy isn't cheap lol so it's hard to add a model to the ones I already support. But I couldn't pass up Leticia or Alexa.
Guest
Thais from that creator NEEDS a comeback….
Guest
Reecruit them all!!! I wish Natalia from TCG was still modeling she was my favorite on that site… then britney then Clarina – which is still modeling!!!!! Teenmarvel recruit Clarina aka Angie Carmona and Anna from TSL if possible or at least try please!!! Would be lovely additions to the site! ❤️
Guest
Non of these are "teens" anymore. 😉
Guest
Wouldn't mind seeing Angie Narango either. She blossomed IMO. What's she doing these days?
Guest
Suzy Medina is a super-sexy great Latina model and this set is simply smoking. Camila has a killer body that can't be beat. I'd be a big supporter of both, if they get regular updates on TM. The more Latinas, the better. If you have Suzy, you should get her sister, Dayana, too. Of the former TTL girls, for me the top were Britney Mazo and Pamela Martinez. I think both would bring a big following, if you could get them.