Sofi, Mia, Daniela, Romana – Foursome
$19.95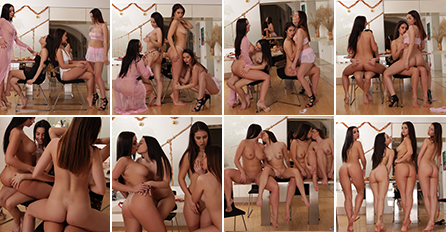 Description

Amount of photos in album: 95 pictures
Resolution: 4480 x 6720
Video Resolution: 1920×1080
Length: 10:30
Video Thumbnails:
Above.
Got something to discuss?
---
Support
If you are newer, we are still going through orders. Christmas day will of course be slower, please be patient.
Enjoy. 🙂
Guest
Wow, four absolutely beautiful girls looking absolutely amazing! Can't get this set yet but desperate to from the previews!
Guest
Purchased now, god damn that was a classic. Loved how the girls were in parallel throughout and then swapped around a bit during the end. Loved how sensuous the whole thing was. None of the girls are ones I frequently buy but that may change in future! My one issue is that we couldn't hear the girls in the video. I know these vids usually have a soundtrack anyway, but I would have liked to hear the kisses at least. Still amazing though.
I'm holding off from 'letting loose' until the final (?) level is unlocked but I'll absolutely come back to this!
Guest
I love lebiantism and I'm a guy! Go figure?!
Guest
Turns out there is no blonde in this at all! Well played TM!
But what a hot and incredible update!
Excellent work by the photographer capturing all that hotness so perfectly on camera.
Merry Christmas to everyone!
Guest
Ha, I got tricked in to thinking there was a blonde as well. Trick of the blurry photo!
Guest
Thank you. I am glad, that you like my work 🙂
Guest
my xray glasses DID work after all! guessed it right 1st try. yay me i guess
Guest
Dammit! I just wanted to buy a couple sets during this event,but now I'm going to end up buying all 12. This is a great event with great content worth the cost. Thanx TM for a great holiday event. 🙂
Guest
Just too busy, too many girls.
Guest
Guest
Great X-mas update with Sofi and the others
Guest
Hated the video,I was forced into watching it 4 times just to catch everything that was going on and now I'm exhausted. 😉
Guest
Can't wait for this one.
More of this is 2020,
Guest
Sofi is a rockstar! The other girls don't even compare.