Romana & Victoria – Strap-On Sex
$19.95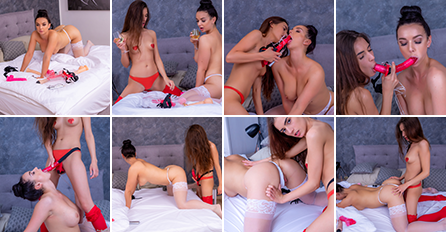 Description

Amount of photos in album: 79 pictures
Resolution: 3744 x 5616
Video Resolution: 1920×1080
Length: 11:57
Video Thumbnails:
Above.
Got something to discuss?
---
Support
Nobody guess 100% correctly. Some of you guessed 50% correctly.
We hope you like it, ince you watch, you'll understand that this was just a fun video for the girls to do. 🙂 The photo set was more of an afterthought on this one. 😆
Guest
Pretty sure someone guessed romana getting plowed by her sexy friend which is sort of vague but 100% correct
Guest
Can we get this with Madison and Naomi?
Guest
I hope this kind of video becomes a trend and we see others join the fun!
Guest
They could charge $100 for that and I'd be willing to pay it!
Guest
I would pay whatever TM wants for that video
Guest
Omg I would a ton for a video like this with Naomi and Madison haha
Guest
Looks like someone had fun at the store
Guest
I believe I guessed Romana,Victoria is a special addition.
Guest
if tm is going to this level i have to support it wow romana is beautiful as always and victoria is smoking hot. these sales can't possibly continue to top themselves ill actually have to budget for the next one lol
Guest
I hope someday Lili will do what Romana did here.
Support
Not happening. And her real fans wouldn't want it to happen.
Our site has a variety of models, so it has stuff for everyone. Pulling too hard in either direction (tame-hard) wouldn't keep things interesting.
Guest
Well put. It just wouldn't fit Lili's persona or the persona she has created for the camera for her to be in a set like this. That being said, ride that rubber dick Romana!
Guest
God no, I want Lili to keep progressing as much as the next person but this isn't her style
Guest
I like the direction TM going. More of this please!
Guest
Am I see right that this cabels on strapon is for fake gooey? Did they use it?
Guest
Sweet mother of Christ!!! Just the preview alone made this an instant buy. But seeing newcomer Victoria just flat out give it to Ramana… all the more it was a buy period… insanely good looking set and video TM and Victoria and Romana. Keep up the amazing work!!!
Guest
Just look at that but jiggle NOM NOM NOM
Guest
It's past time ….
TM needs a hardcore with Freya!
With Lili, I pay $ 1,000 just for her to look at a huge, tough black man
Guest
Delightful to see Romana being penetrated by her friend. It looks like they were having fun, which counts for a lot. It would have been nicer to see Victoria without pasties, but I guess we can't have everything.