Petra – Wet Sequel
$14.95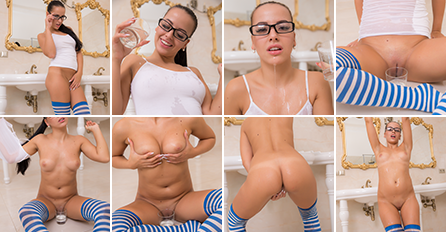 Description

Amount of photos in album: 171 pictures
Resolution: 4480 x 6720
Video Resolution: 1920×1080
Length: 10:02
Video Thumbnails:
Above.
Got something to discuss?
---
Guest
I wish I could stay home all day with this!
Guest
I've known Petra since a few years now. Thanks TM for this climax of her performances. Going to watch the video again, as I believe I can't trust my eyes anymore.
Guest
WARNING WARNING WARNING: This video is not for the faint of heart! OH MY OH MY OH MY. If you think her event set was good, this set is 1000 times better Pictures and video. This the best Petra set hands down. Thanks, TM for this amazingly awesomely spectacular set. The month ended soo fast I do not want to end.
Guest
Oh… oh my… poor… tired… balls… THANKS PETRA and TM!!!
Guest
omg soooo hot! theres a pic where her kitty looks like a perfect pink rose lol this girl just made one hell of a comeback thanks petra!!!!!
Guest
Petra is f-ing sexy as hell, and this set and video are incredible.
Guest
Yay, excellent work Petra. But can we have Katrina as MotM again?!?
Guest
Thanks again TM for choosing Petra as a model of the Month. It was a nice cummy month :). Hope to see more of her soon.
Guest
Fuck yea ordered ! Still waiting to get it though 🙁 status says "on hold", not sure that that means but i really cant wait to see this ! Please mae a similar set with sophie and mia ves… i know shes not a model on this site(yet) but im hopeful you guys will pick her up ! that would be amazing ! thank you for the amazing work.
Guest
I will never be able to drink a glass of water without thinking about this video 🙂 great set TM,thanx
Guest
Guest
It's been around 14 days and I am still watching this. This is definitely her best set yet. Madison, Naomi, and Petra I love the direction they are going. Honestly speaking after this set I am not sure how I will be able to join her normal updates. I think the rest of her updates should be like this or better. TM, Petra deserves to have your full attention as the other models. Do not get me wrong I am very grateful with Petra updates and this year Petra had the most number of updates comparing the previous years and we are still 3 months left till the end of the year 🙂 . Thanks
Guest
I am very happy to see that Petra have a best seller set. I hope there might be even more sets of hers and maybe another Model of Month in 2020. Thank you TM for making her Model of the month.