Patty – Student
$11.95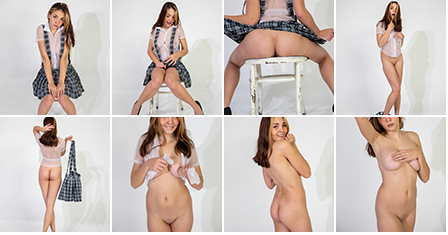 Description

Amount of photos in album: 169 pictures
Resolution: 3744 x 5616
Video Resolution: 1920×1080
Length: 10:27
Video Thumbnails:
Above.
Got something to discuss?
---
Guest
Patty is an absolute babe!
Schoolgirls were never this HOT in my day!
Guest
TM to be honest with you, Patty for me was not a must buy model. I would not say she was not my type but I do not see what others see on her. However, I did buy all her sets through discount except the one with Elza as Elza was the main reason I bought it. The Patty Fairy was a bombshell for me. It completely changes my mind about her. What a set it was and hoping she continues on the same road. This set completely is, worth buying for me. 🙂
TM, Patty will look amazing in a Rally/Racing sexy outfit 😉 . I believe she will love that too 😛
I see someone forgets to silent his phone 😆
Guest
At last some more Patty. What a stunner!! Any chance she can model with Mia… that would be TM Heaven for me!
Guest
Man, I can sympathize with the chair issue. I've had chairs where you're just sitting there minding your own business slowly rearranging your top over and over again only to stand up and find paint flakes stuck to your nether bits. F's in chat.