Madison & Victoria – Pleasure
$19.95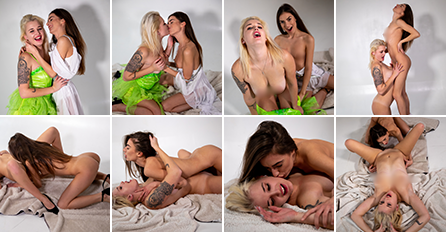 Description

Amount of photos in album: 134 Photos
Resolution: 3744×5616
Video Resolution: 1920×1080
Length: 7:30
Video Thumbnails:
Above.
Got something to discuss?
---
Guest
Guest
7 minutes 10 seconds for this video?? I'll never be able to last that long 🙂
Guest
What a Wonderful Gift. Thank you Madison and Victoria for continuing to put on a fantastic show for us. More. More. More. You are each hot on your own but when you are together, wow! I especially love the Strapon action in your other set – how about trying a strapless dildo on each other? Dare I dream of anal from either of you?
Wow! Just had a thought: can we have a Mommy special with Cutie and Madison (or Lili – dare I dream). We have seen Cutie with her GF so how about with Maddie? Perhaps by Mother's Day?
Give us an inch….
Thanks TM & photographer for bringing us this amazing set and video of these two gorgeous girls having a great time and pleasure….
Guest
HOT!!! The chemistry between the two is amazing. I Love how playful Victoria is. I hope to see more DUOs sets between the two and I hope for more Victoria solo sets too 🙂
"Pussssyyyy!!! Secret room!!! ask Harry Potter!!" 😆 😆 😆 😆 😆 😆 😆 I love this part cannot get enough of it 😆 😆
TM, what's the password for the Secret room 😉 !!!??? 😆
Support
Yes, the chemistry is amazing. Their personalities fit… and they love to have fun. And Victoria has a nice sense of humor. 🙂
Nobody has access to the secret room, only the girls. 🙂